Fitness App Development Company
Get a proven destination for comprehensive Digital Fitness Solutions. CodeSparrk is a specialist when it comes to curating Fitness and wellness apps. Boost your fitness business prospects with our intelligent solutions and highly experienced team our Fitness app development company.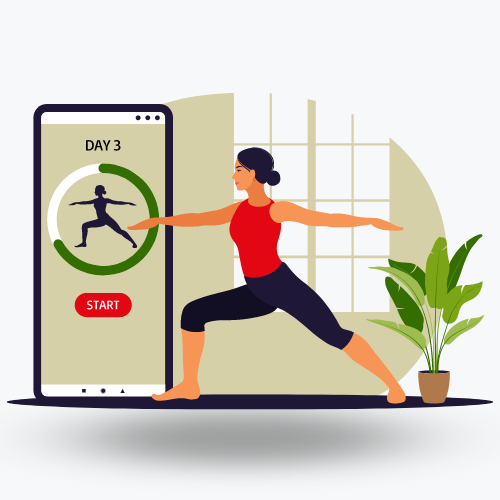 Comphrehensive Fitness App Development Services and Solutions
Fitness is an asset that is necessary for everyone. But not everyone can afford to visit the gym. Perhaps due to financial or time constraints. But one thing is sure. You need a system that can track your fitness record and helps you stay focused. CodeSparrk is a leading Healthcare and Fitness App Development Company in India, the USA, UK, and Australia. Our experienced fitness app developers maintain a system that captures every feature and provides comprehensive development. We promise you a personalized experience with the right features and functionalities. 
Be it monitoring your diet, or contacting a nutritionist, our fitness app would be all-inclusive. Seek expert advice or know your gym schedule from your tracking calendar for each client. our comprehensive team is ready to transform your idea into a working model.
Fitness App Development Features
With the advanced and rich features, ace your fitness journey with CodeSparrk. Our fitness app brings your favorite and certified personal trainers, dietitians, and nutritionist close to delivering your prompt services. Our enhanced features include:
Schedule fitness levels according to your customized schedule. Set reminders, and alarms and track your fitness growth at each stage. Get online classes whenever you are super busy at your work. And never miss an update. Be consistent with this enriching feature and contact your trainer anytime anywhere.
Now we know how tedious it gets when it comes to juggling work and the gym. More often than not we tend to forget about lessons we have learned and the diet we have to follow. This is where Fitness application development services lead a major role. Download any video and tutorials at your office, on vacation, or at home. Watch them anytime and complete your scheduled reps daily. 
Comprehensive Guide for Workout
The Fitness app development solutions allow you to get a comprehensive guide for your workout. You need not go to the gym and call your gym trainer. You simply have to open your workout sheet and resume where you left off. 
Digitalize your gym practice by offering the clients what they really need. That is the correct health planner. Clients can get nutritionist, diet plans anytime they want. A healthy planner allows people to pre-plan their workout sessions and make space for other events.
Chat With Experts in a Personalised Account
Chat with a panel of reputed and certified experts for any kind of information. Anyone can make a personalized account for getting access to basic fitness-related information. The user can also upgrade to a premium account for newsletters and premium access to expert sessions.
Why Choose CodeSparrk for Fitness App Development ?
Delivering robust frameworks, and cost-cutting solutions, CodeSparrk is one of the fitness app development companies. Our goal is to provide customer satisfaction that is user-friendly and secure. Our agile methodology is perfect for any alteration or addition post-launching. Choose only from the best developers and dedicated team for fitness app development. Fetch services on time through
Unbeatable and Robust Performance
Our highly qualified Fitness app developers build robust apps using different programming languages. We provide engaging platforms and interactive user interfaces for a comprehensive experience. Our secured and scalable technology gives an unbeatable and robust performance.
We know the importance of secured data and that is why our developers work towards well-encrypted features. Our end-to-end encryption makes sure that the health fitness remains confidential and fitness data are not shared with a third party.
Our Fitness app development is easy to use and has an attractive user interface. Our certified developers put a notification feature that instantly notifies the user about any recent update or activity. This way, the users will never miss on any workout session or reminder.
We ensure a better branding experience through comprehensive features. We make sure that the users find everything in one place. The ultimate goal is to provide a secured and packed app with a robust customer experience.
Integrity and Transparency
Our project remains 100% transparent with the client. We offer flexibility to our clients in terms of engagement models and hiring developers. Clients get consistent reports on each development in the project all the way to the post launch. Never miss an update with CodeSparrk.
Our Fitness App Development Services
We just don't design your Fitness app but also provide you with recommendations and additions from experts for improved performance. Fitness apps have become a game changer for everyone who cares about wellness. So, if you are a fitness freak, then our features would impact your health in a big way. With next-gen technologies, convert your concept into a working robust app. We offer our services in the following domains
AI-Based Personal Trainer App
You can install new and out of solutions besides these services and create your own hybrid fitness app.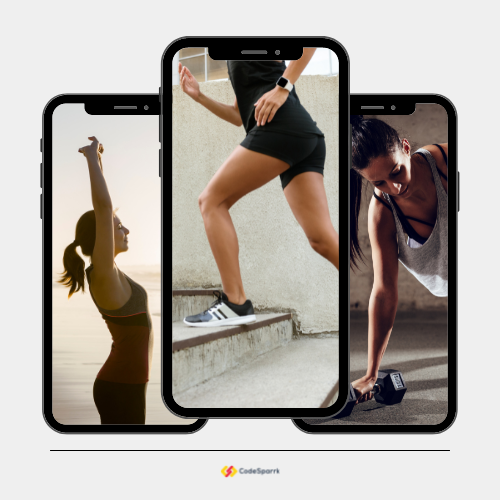 At CodeSparrk, we specialize in enhancing well-being, generating revenue, and expanding your clientele for fitness providers. Get fully customizable features and advantages that give a high return of interest annually. Get trusted services only from the best for your health. 
Hire developers on flexible engagement models. Be it weekly, fixed cost basis, or full-time developers according to your budget and deadline. Get 99% client retention and agile-ready work that kicks off fast. We are confident in providing 360-degree solutions and exceeding clients' expectations. Book us today and get a free consultation from the experts! 
Frequently Asked Questions