Top 11 Mobile App Ideas and Latest Trends for Sports Industry
Sneak peak of latest mobile app development ideas and trends for sports industry. Want to develop an app for sports business then this guide will gives clear insights to follow.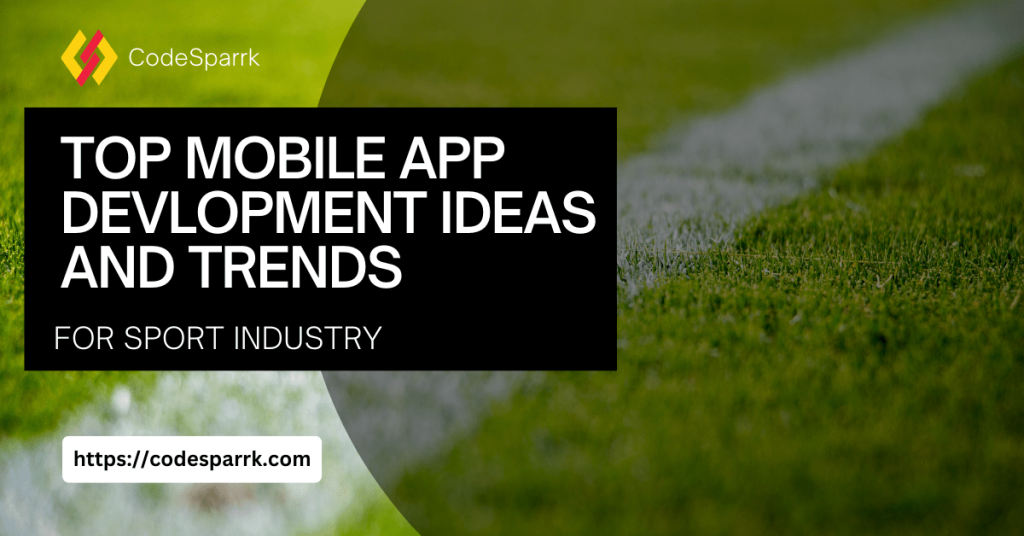 To get such blogs post please subscribe
11 Best Sports App Ideas and Latest Trends for Sports Industry
The sports industry is expanding exponentially every year. All sports fans look for the best sports app to stay connected with their interests. People across the globe are participating in large numbers in sports activities. One of the major segments of the sports industry is the sports app. As they want to stay connected with their preferred sports, the sports app provides a platform online to experience sports spirit in the comfort of your home.
There are a plethora of sports apps available on the Google Play Store and App Store. If you are looking forward to developing your own sports application, then this article is your one-stop destination to understand how you can get started. To assist you better, we have created a list of unique sports ideas and some latest trends in the sports app development industry.
Some Interesting Statistics About Sports App Market Industry
Many people don't like TV screens anymore and they move toward sports apps on their mobile devices. Sports apps not only provide easy accessibility but also sports companies are providing robust features that attract sports fans in huge numbers.
Besides sports enthusiasts, there are some segments of the sports industry that use these apps for assistance. Sports coaches, event organizers, and parents use these apps that further help them with different processes and functions.
Sports apps are becoming the need of the hour. Non-sports fan also uses these apps to procure information about sports. There are opportunities that are present on the sports apps and it helps them to keep the updates about latest sports trends. Here are some key sports app development statistics that show why the sports industry is expanding by the day:
CBS News has conducted a report wherein it was shown that 50% of Americans are sports enthusiasts. 50% of the global population is inclined towards sports including baseball, basketball, cricket, soccer, golf, tennis, etc.
A mobile app research report revealed that users spend around 50 minutes each day on sports app.
According to Coherent Market Insights, the global sports market is expected to grow exponentially during 2019-2027. The market is associated with several other factors simultaneously including smartphones, healthy lifestyles, and easy access to sports apps.
According to Statista, "The global sports market grew from $354.96 billion in 2021 to $496.52 billion in 2022 at a compound annual growth rate (CAGR) of 39.9%."
According to Statista, the number of downloads in the sports sector is estimated to reach 2.033.9 million in 2022.

The statistic presents the size of the North American sports market from 2009 to 2018 together with projections for the years 2019 through 2023. The North American sports market was worth roughly 71.06 billion USD in 2018.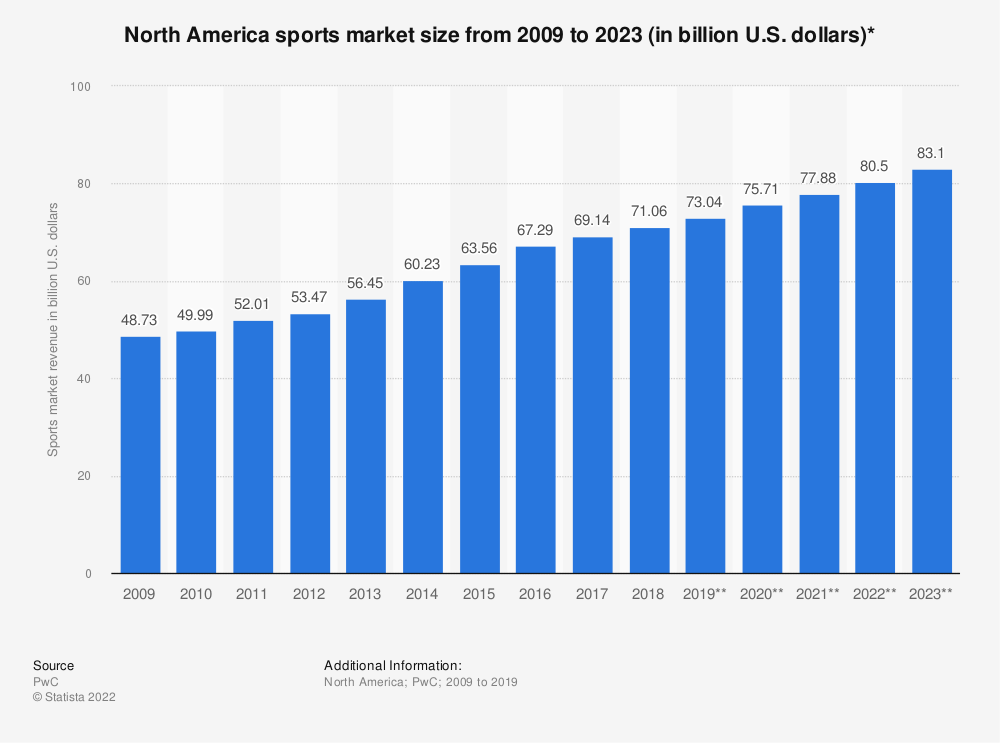 We have compiled a list of some trending and best sports app ideas to give you the right direction to get started with your sports app development company. Without further ado, lets get started!
These apps are gaining popularity due to their robust and attractive features. In this app, there are virtual teams of real players. The players participate in the games and compete against each other taking their statistical performance in actual games into consideration.
To get started with an app like this, you need to register, log in and do the OTP verification. Users can choose their preferred games and select a match to get started. These sports apps elevate sports spirits in gamers and give them real virtual experiences.
The players can keep a track of their scores and upgrade their gaming experience. You can upgrade your application by adding the buy and sell features or the players can integrate cryptocurrency or NFTs to their mobile apps. Exciting, isn't it?
2. Sports Ticket Booking Apps
You do not have to stand in queues to get your ticket to your favorite game tournament. A ticket booking app tells the sports fan all about the sports events that are happening around them and worldwide. The app user can find a suitable seat to their preference and book in advance to avoid the hustle.
Not only this, a sports ticket booking app comes with a plethora of other services as well including purchasing refreshments, notification features, reminders of your sports event, and much more.
Some examples of famous sports ticket booking apps are Sports Fan Quiz, Bally Sports, Quizit, etc.
Now that sports betting is legal, sports fans are very much interested in investing their money in their preferred game tournaments and championships. Watching sports and betting on them is a hobby that many sports enthusiasts promote. Some forms of betting are traditional betting that happens in a betting marketplace or online where people invest their money through brokers.
By creating a sports betting app, you can invite many business models, internal currencies, and exchanges of bitcoin as well.
Sports Fitness apps have gained massive attention from their users. It is due to a plethora of reasons that benefit society as a whole. It tells you how to stay fit through interesting workout sessions, reminders, food habits, community services, and much more. Nowadays, sports fitness apps are all-inclusive of users' essentials.
Your sports fitness app can include several other features as well including a nutritional calendar, map tracking or workouts from celebrity trainers, etc.
There are a number of exciting sports fitness ideas, if you want to know you can contact one of the best app development companies in the US, Australia, and India, CodeSparrk. We are here with our team of experts with 11+ hands-on experience. Contact us today to transform your idea into a reality.
Who doesn't want to get updates while driving a car, or being in the office? Everybody does. A sports news app is trending due to its excellent features for sports fans worldwide. It includes all the latest updates about the sports world. Tennis, football, cricket, and other games are all-inclusive in this app with scheduled matches. So that a sports fan never misses an update.
This app has a wide scope in the sports market that is all-inclusive of the latest happenings with updated information about tournaments.
People with hectic lives sometimes don't make it to their favorite sports. And that is how these live-streaming apps came into existence. These apps enable users to watch everything about their favorite matches, teams, and news. Sports fans now do not have to spend money when they can simply take advantage of live-streaming apps.
Live streaming applications earn their money from followers who pay a premium to access these apps, hence making these apps financially stable.
Not only this, a sports fan can live chat with others and engage with fans worldwide. It attracts users to this app further and enables them to connect easily. These apps come with high-quality streaming with Chromecast assistance, and search filters for different channels.
7. Sports Equipment and Inventory Store Apps
This app is exclusively for the pens who are engaged with sports directly. This app offers wearables, equipment, listed edition merchandise with sports food among other things. This app has filter search and product pages with images and descriptions to get the right information before buying a product.
These apps prove to be very useful for sports enthusiasts as they can order sports stuff from farther away as well. It also includes product catalogs, latest inventory, payment gateways, shopping cart, reviews, and more.
Sports celebrity apps are perfect for sports fans. These apps comprise celebrities and their exclusive features to fans who purchase a premium. They can communicate, and follow their daily lives.
This app comprises celebrities' events, tournaments, and their record, and the sports fan can get access to all these features easily through this app.
Sports Coaching apps give the perfect opportunity to sports coaches o share their expertise with the world. Sports coaches can access these apps for keeping track of athletes' schedules, monitoring their food hats, new training modules, and more.
Besides these, they can get one-to-one classes on this app for workout sessions and practice sessions and can chat with their coaches anytime they want.
10. Sports Facility Booking Apps
These apps work excellently for sportsmen. They can access these apps for early booking of a gymnasium, stadium, tennis center, or swimming pool beforehand to avoid the hassle. These apps come with slots to book so that you can take advantage of the comprehensive schedule and make adjustments accordingly.
These apps enable users to know about other features of a particular sports facility as well including knowing about their instructors and coaches. Coupled with a plethora of benefits, they get multiple payment gateways to keep the payments flexible.
Sports enthusiasts prefer this app because of its engaging quiz games. Any person can play games on this app with robust animations for quiz events. Users can also take part in the scheduled quizzes and showcase their profound knowledge about sports and win prizes!
Sports lovers find these apps exhilarating and exciting as they also enhance their sports knowledge.
Trends to Follow in Sports App Development
There are a plethora of trends to follow in sports app development. You can add unique functionalities in your app. Keep an eye on these trends to know better about sports fans and the sports business as a whole. Here are some current trends:
Wearable integration is gaining popularity due to its multi-use feature. Sportsmen can procure the right wearables for them as sports fans can get wearables based on their preferred sports all online.
Social media has no doubt increased users' engagement as more sports fans are sharing their interests worldwide. Here people can share their experiences, and interests, express thoughts and feelings about a particular sport, and so on. Social media integration is indeed useful as it allows you to integrate platforms such as Twitter, Instagram, Facebook, and Pinterest among others that also aid brand recognition.
In the sports industry, virtual reality and augmented reality has made fans go crazy. It provides exhilarating graphics with robust game features to give a real game experience to the users. With the use of technologies, these apps assist in providing the same user experience as any sitting in the stadium.
Cross-platform app development
Cross-platform app development is already in the market, gaining popularity among businesses. It offers efficiency and robustness to many well-known tech giants including facebook, Pinterest, Alibaba, and others.
Use of AI (Artificial intelligence)
For an exceptional user experience, the use of AI (Artificial intelligence) in the sports industry is probably the best thing that happened. It creates a more enhanced experience for users that personalizes well. AI helps in sorting out queries with automated solutions.
What is making every sports fan go crazy is the feature of gamification. This technology helps in the high engagement of users through mobile and web apps. This helps in the maximum retention of users.
Robust Sports App Development Company
Take advantage of robust services from CodeSparrk that provides businesses with the right app development solutions. It produces the best sports apps for business. Individuals, startups, to any organization. We take care of your budget and streamline processes to keep you in the loop at every step of development.
Get ready to transform your dreams into a reality with a team of expert developers. Choose from different engagement models that suit your conditions the best.
Contact us today for a free quote.
Frequently Asked Questions (FAQs)
Connect with a developer today!