Oracle ERP: The Top 3 ERP Modules
Modern, integrated suites that provide customers seamless data and process integration are the most efficient ERP solutions. Learn about top 3 Oracle ERP modules and its function for different business management.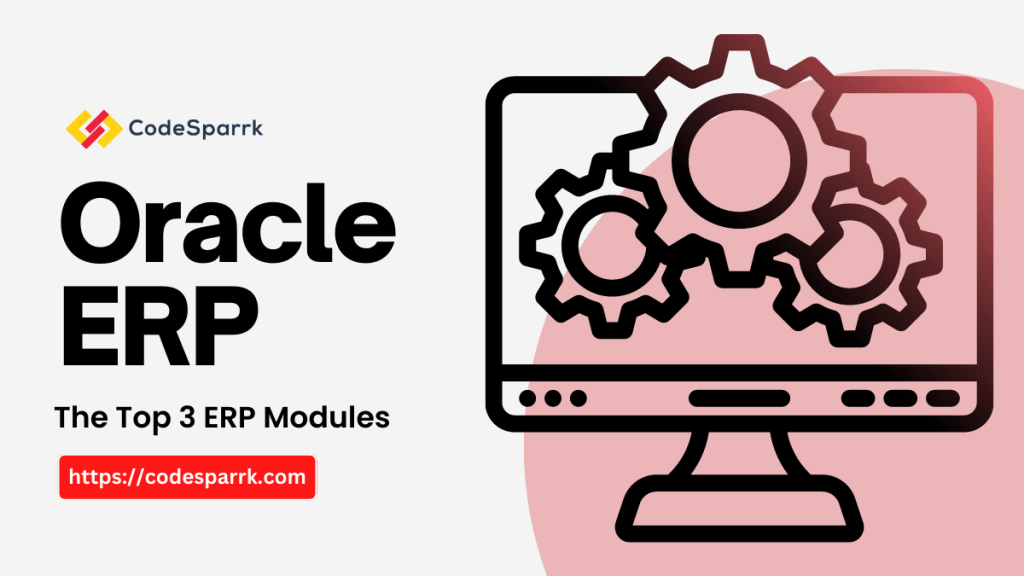 To get such blogs post please subscribe
Oracle ERP: The Top 3 ERP Modules
Working towards " Continuous change requires continuous innovation", Oracle provides Oracle Fusion Cloud ERP for every business need. Enterprise Resource Planning is all-inclusive of the team with advanced capabilities, AI to automate manual processes and analytics with real-time market shifts. It is a business management software that takes care of every function ranging from financial management to project management or accounting. Oracle ERP system elevates your business comprehensively and boosts collaboration with boosted productivity.
An ERP solution gives all employees the advantage of giving all the information about their future planning and current performance. It helps to keep regularity in keeping all the data secured and streamlined. The single source of information minimizes data accuracy and helps in drawing better decisions within the business. Oracle ERP functions include supporting back and front-office functions like finance, accounting, order management, warehouse management, and much more. Without further ado, let's find out how Oracle ERP Modules that are high efficiency for your business.
How Do ERP Modules Help Businesses?
The modular design of ERP allows businesses to choose modules on the basis of their challenges and requirements. The best part of the Oracle ERP system is that it targets your needs and addresses new needs along the way. It then comprehensively proposes solutions. Any business can add this software without having to change the company structure. There is no need to put extra effort into designing a whole other ERP system as you are getting an established one already.
What are the Costs for Each ERP Module charged by the Vendors?
There are a plethora of charging systems made for different ERP modules. Generally, the ERP purchase is based on what feature is added to the Module. Typically, financial functions are there in the base package. On the other hand, if you need to install CRM management systems or human resources management, then you can opt for another package with extra cost. Some vendors charge upfront while software service vendors charge per user. Some may even charge on per month basis depending upon which ERP module you have chosen.
Oracle ERP: The Top 3 ERP Modules
We have brought the top 3 ERP Modules by Oracle that are beneficial and extremely helpful for businesses today
Get a clear picture of your financials and make better decisions. Oracle financials provide a complete overview of your financial position and give you results so that you can make necessary changes accordingly.
Financial data in any company is crucial to handle carefully and needs to be operated separately. Oracle ERP system offers a comprehensive picture of modern finance, expense management, accounting engines, revenue management, and more. Oracle module consists of accounting management, expense management, accounting engines, revenue management, and more. Key features that are present in the Oracle ERP module cloud are the accounting hub cloud, financials cloud, and the Oracle Revenue Management Cloud.
This great financial management planning includes every detail that goes into your finances, making them robust and future-ready. Get streamlined accounting and general ledgers to automate expenses and become ready for incoming expenses.
Features:
Accounting hub
Reporting and analytics
Payables and Assets
Revenue management
Receivables
Collections
Expense management
Joint venture management
U.S. Federal Financials
2. Oracle ERP Manufacturing
Every business needs to plan beforehand the supply surplus or deficit and complete order fulfillment processes. This Oracle ERP system lets you work on complete inventory management and keep streamlined surveillance on production cycles. The whole supply chain management system is regulated by this ERP module including the inventory module, purchase order import, process manufacturing, discrete manufacturing, and manufacturing intelligence, etc.
The Oracle ERP manufacturing is the ultimate key to setting reports and transactions and managing inventory control. This system compiles all your performance data and tells you about your profit margins. Not only this, ERP manufacturing offers organizations a plethora of floor execution capabilities and manufacturing consistency.
Features:
Supply chain planning
Inventory
Manufacturing
Maintenance
Order management
Logistics
Product lifecycle management
Procurement
IoT and blockchain
3. Oracle ERP Procurement
One of the best Oracle ERP modules includes a procurement model. Now get ready to empower your people and keep everything in check related to procurement. This ERP system simplifies the user experience with enhanced supplier management. It enables you to procure the best supplier selection that eventually leads to improved profitability.
This module offers purchasing solutions with a plethora of features to explore from. It includes procure-to-pay transactions and they negotiate with suppliers to get the best cost. With self-service procurement, it ensures that every business gets approved suppliers with 100% compliance and boosted performance. Not only this, any business can witness whatever is going on inside the organization including all sources to settle activities. Get data-driven decisions and optimized [procurement process with Oracle ERP Procurement Module.
Features:
Procure-to-Pay
Supplier management
Sourcing
Contracts
Business Network
Other Oracle ERP Modules that Benefit your Business:
1. Order Management ERP Module
Order management ERP module helps in tracking orders comprehensively, leaving no stones unturned. It tracks your orders from the warehouse to the distribution center, ensuring timely delivery and safety of the products. It helps the orders from being lost on the way and ensures that the customers are satisfied with the delivery services. Adopt this module for simplified and easy delivery to your customers without any unnecessary expenses.
A more advanced order management module includes cost-effective solutions and proposes different methods. It is inclusive of a store vs. a warehouse vs. a third-party fulfillment partner.
A Warehouse management module can deliver high ROIs (return on investments). You must be thinking how? They handle all of your warehouse services including warehouse employees and their different functions. They take care of each employee through every process based on the facility and help plan labor on the arrival of products. It is well known for the companies who own their own warehouses and need it to be planned and organized.

You can adopt this ERP module if you need to integrate your inventory management and management applications. Delivery would be fast as every order would be thoroughly examined and acknowledged by the employees.
3. Supply Chain Management
A supply chain management ERP module is super helpful for the movement of supplies and goods and tracks the whole supply chain in one go. From sub-suppliers to suppliers to manufacturers to distributors to retailers to customers, this ERP module tracks each step and manages refunds and replaced products efficiently.
This management module includes other modules as well including procurement, inventory management, manufacturing, order management, and warehouse management.
4. Customer Relationship Management (CRM)
This CRM ERP Module is significant in storing all the customer and prospect information. It includes all the information related to the company's communication, time and date of calls, and its detailed history. A CRM eventually leads to improved customer service as all the information is ready to be delivered to the staffers whenever they need it.
CRM systems also manage sales leads and track communication with potential customers. If you adopt more robust CRM modules, you may get support customer segmentation and expert contact managers for boosted telemarketing.
A workforce management ERP module is an all-inclusive management system for employees. It tracks their working hours, attendance, and leaves, and gives you a comprehensive report of each employee.
It also includes a payroll module that automatically transfers payments to all employees when it is due. It also set schedules with taxes calculated and deducted and helps in providing reports for overtime workers' hours and similar KPIs.
Related article you may also like to read on CRM solutions and software, Like ERP CRM softwares are also help businesses to manage multiple things in right way. 


Frequently Asked Questions (FAQs)