In this blog, we have covered the comprehensive guide on how do apps make money and the surrounding factors and app monetization platforms that influence them.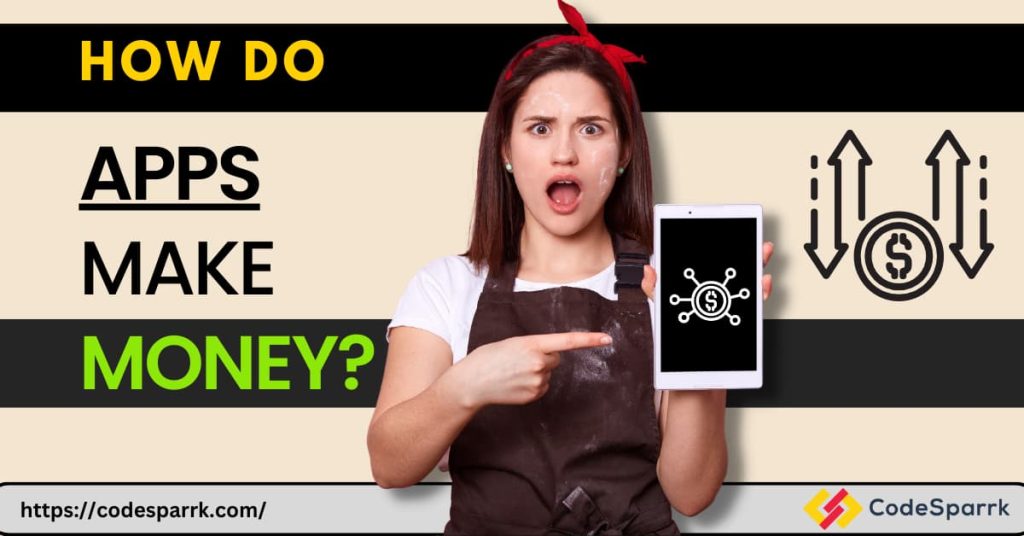 To get such blogs post please subscribe
Learn How Do Apps Make Money?
Yes, you heard correctly! You may earn a lot of money with apps. If you are looking for the same thing about how to make money from app then you are in right place. If you want create custom mobile app then this blog is for you.
In this fast pacing world, every business is looking forward to one thing. Yes, you guessed it right. Success i.e. making money and earning profits. This brings us to our popular question. "How to make money from apps? Despite thousands of mobile applications out there, only a handful of them is able to earn money using apps. Every business after customizing its mobile application and investing a lot in it wants to derive some profit from it. 
While some apps come with a paid membership, most of the apps are downloaded for free. Then how do companies manage to make money by creating apps?
This is why we have brought this blog, especially for the companies or startups who are going to invest in mobile app development. Unravel the mystery of making money using apps and learn about the conceptualization of App monetization to strategies, factors, and methods. Before knowing How Do Apps Make Money? Let's first understand the concept of App Monetization.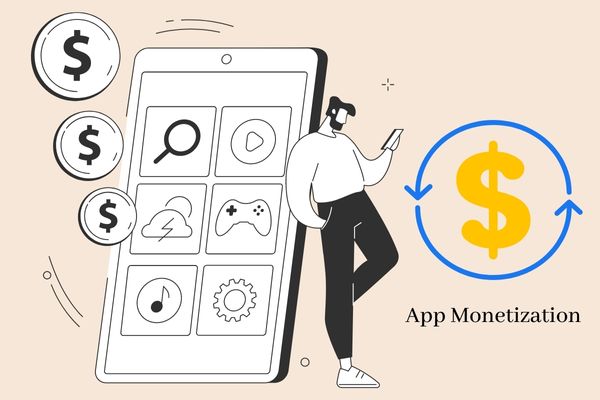 What is App Monetization?
The term "app monetization" refers to a situation where companies and businesses build revenue streams through their user base. App developers and publishers use different strategies and factors to make money from apps.
So how does the system work? The app developers or publishers push their strategy by using their user base and influencing their behavior towards the app. They encourage more purchases, ad impressions, or other conversions which are in favor of the user. 
Look at the statistics about App Monetization that you must know!
App Monetization Statistics You Must Know in 2022
With multiple segments in tech, mobile app development is gaining popularity. Do you know that approximately every person spends about 5.4 hours scrolling on their phones? From ordering groceries to buying property, a phone mobile is a one-stop solution for everything.
With the advent of COVID-19, the global revenue generated by mobile apps has multiplied. The reasons being obvious, it is all after the declaration of the Pandemic that led to the revenue rising by 318 billion in 2019
Where the performance of an app depends upon various factors, the motive to make money from it requires in-depth research and the right strategies to be implemented. Industry experts have predicted that revenue is estimated to reach $613 billion by 2025. Furthermore, revenue generated by apps via paid methods has increased by 8%, while revenue generated via ads has increased by 25%. 
 
Factors to Consider for Developing Money-Making App
Every business strives to make a profit to break even the investments they have made into making app development. And that is why before making any big decisions, there are certain factors to keep in mind. Not all apps make money. This is because companies fail to understand the comprehensive process of mobile app development and predetermined factors that lead to earning money from apps.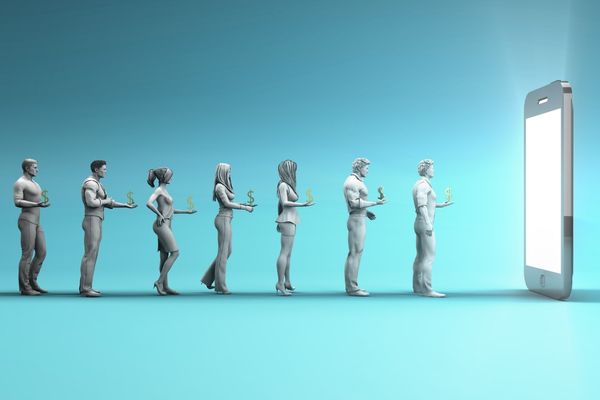 Some of the most significant ones are to always conduct thorough research before making a huge investment. Seek technical guidance and industry experts and apply their insights for optimized results. 
While these are the top requirements, read on to know the checklist for a successful money-making app. 
1. Marking Objective of the App
By investing in any mobile app development, you intend to solve an underlying issue. For monetization, you need to choose a model for the same. But before proceeding towards that step, you should always define the purpose of your app. Your app needs to define its objective which leads to a seamless user experience. 
Similarly to make your app different from your competitors and worthy of purchasing, you need to plan step by step to answer some key questions that your users might have. Define the following:
What underlying issue or proposition your app solves?
Finding the right app development services to build a successful app
Does your app monetization leave an impact on the market?
Will the app be enough for the fulfillment of users satisfaction? 
Find logical answers to these questions before determining the monetization strategy for your application. 
2. Focus on Target Audience
Why would anyone want to purchase the services from your app? This is the right question to ask and solve before proceeding any further. For instance, if you have an educational app, examine that your app provides them with the right study material or some out-of-the-box solutions that they require. Similarly, if you have an app for pregnant women, make sure that you are providing them with the right maternal clothes, or giving them the guide to pregnancy that they so righty need from your app. 
To effectively make money with apps, you need to evaluate the reasons that are making it worth their purchase. 
3. Comprehensive Analysis of Market 
The one factor that makes you different and effective is that your competitors would be the deciding factor for the users. That brings us to the next point. 
Conduct a comprehensive analysis of the competitive market. When you develop an app, you should be aware of the similar apps that are existing in the market. Analyze their history and the factors that boosted or failed their attempt to thrive in the market. 
The winner takes all only if they know the drawbacks and loopholes of other competitors and research effective marketing strategies for your mobile app development.
4. Choosing Technology Stack
Earning money from apps depends a lot on the structure of your app. By that, we meant the latest technologies and methods to develop your app. After all, in the end, every user looks for a seamless and robust experience. 
Look for the models for the monetization of your app. For instance, the monetization percentage varies by choosing the model. Where it is 70% if you choose a traditional app development platform, it is more when it comes to I-based applications.
In 2022, mobile app monetization depends a lot on only one factor. And that is user experience. As a user, even you would not want to compromise on the quality of the product if you are investing in it. So how would you expect your target audience to overlook this deciding factor?
This is why there are multiple models to choose from that fit your app monetization. Choose yours by studying which model is suitable for which kind of app. 
While making your app, In-App advertising proves to be very effective for earning money from apps. While your app is free to download, in-app purchases allow you to make money exponentially. 
Basically, this method allows you to display advertisements of other companies in your app. They pay for the display and clicks they get from your app. This revenue model is highly suggested for apps for easy monetization of your app. There are several formats of in-app purchases that include:
One of the modest and creative methods of advertising, this method allows you to generate revenue without touching your user's experience. This allows you to give your users the same experience without disturbing or altering the system. Native advertising exposes your users to advertising simultaneously.
Voted for the most liked way of advertising in the US, playable ads are highly effective with a tinge of fun for the users. It is a system where it lets the users play the game for free without the need to install it. It gives the users a preview of how the game works and is considered to be the best choice for promoting gameplay.
As the name suggests, this method of in-app ads provides ads in gamification. Rewards are given as a token for watching the ad. For instance, a user is playing a certain game where the purchasing medium is coins. This in-app ad format rewards users in the account for watching a 30-second video. This method has been expected to grow exponentially from 2021 to 2027.
Banner ads are a subtle way of advertising. It fits in a little space while fulfilling its purpose. The ad stays on the app for the duration of the user using the app. 
2. Freemium Model for Monetization of App
The Freemium model for app monetization is a brilliant way to make money using apps. It provides users the opportunity to download the app for free. The purpose is the allowance free usage while checking the robust features that your app provides. The users can use the app for free for the time bound by the app owner before committing to their subscription plan. 
For instance, Google Drive allows users to use space up to 15 GB after which users can upgrade to premium for space up to 1Tb and enjoy other plans. And the best part is that even the users who don't go for the premium subscription can still monetize your app through in-app ads. 
Subscription models are another great way of monetizing your app. It gives the users a preview of what their experience will be like if they opt for the subscription. According to a US survey, the subscription model's value will increase by 21% in 2021, from $3.8 billion to $4.6 billion. That's significantly impactful for companies worldwide.
One popular example of it is Spotify. It allows users to listen to free music with ads playing in between. It gives them a window to experience how the free version is different from the premium and its robust benefits. If a user like your service, they can opt for an unlimited ad-free option. 
In-App Purchases are a robust way of monetizing major mobile applications today. For instance, apple app store, google play store users download gaming apps and apps for free. But in-app purchases help them to earn money with the help of two categories: consumables and non-consumables. The basic difference is real money and game money. Consumables are the ones that users spend in-game in exchange for coins they have earned through different tasks. Non-consumables are the money spent on certain features of the game like upgrading to a different skin or upgrading weapons. It requires the user to purchase with real money.

Check this guide on how to create gaming app for business;
Sponsorship is yet another great model of app monetization. Incorporated with applications, this provides a wide chance to integrate with big brands and earn profits. Keep in mind these factors while allowing the companies to sponsor: Always divide the revenue that you derive from the mobile app and decide on a stipulated sponsorship fee.
Ultimate App Monetization Strategies in 2022 
Let's discuss the potential impact of the above-mentioned models on how do apps make money by discussing the ones that fit right for you! When it comes to choosing the right strategy, you need to set out your priorities and the objective of your mobile app development. Choose from the below for optimum growth and engagement. 
The free and paid app versions model
As we discussed the features of this model, with the right strategy, this model of app monetizing is quite beneficial for your growth. This model encourages the users to get your services after deciding for themselves. 
The dual-benefit mechanism includes the users experiencing a free version of your app. In the free version, you can showcase the robust features while limiting certain limits. With this approach, the app developers can give a preview of what their best features look like while allowing them to test themselves. The second benefit lies in in-app purchases being a part of your freemium model. 
The free app with in-app purchases model
Another great option for app monetization is in-app purchases or IAP. this is the integrated option of the above-stated models. Here you provide them with ads to continue using their app for free or give them the option to buy lives in games or certain features by clicking the ad and watching it for 30 seconds. Either way, the purpose of the in-app purchase is being fulfilled. However, if a user decides to go ad-free, they can opt for pay-to-play mode.
How Can You Choose the Best App Monetization Method For Your App? 
It's quite a puzzle to find how to create a plan to systemize everything that ultimately leads to successful monetization. Explore how to put strategies in line with certain guidelines to follow. If you are perplexed about where or how to start monetizing your app, then go for these step-by-step guides for clear and sorted decision-making.
1. Channelizing the Audience 
The first step towards monetizing your app is to find the target audience for your app. Convert your traffic into revenue by channelizing the right traffic. For instance, if the app you developed is a pregnancy guide with resources to learn, article sections, in-game challenges, or quizzes could be a huge hit. Once your users are familiar with your robust features, you proceed toward monetizing. 
2. Right Platform for Your App
An effective way to earn money with apps is to find the right platform for your app. You can choose android mobile app development or iOS app development while looking at which suits your target audience the best. A lot can make a difference when choosing a platform. 
In the end, both platforms can make money depending on where you fetch greater benefits.
A great way of focusing on and upgrading your app is to carefully develop it. You can always give more robust features in addition to the existing ones. For instance, in the case of a pregnancy app, you can provide a store for customized merchandise, and clothing or you can add more exclusive audio lessons from instructors to learn more about pregnancy. 
These features can be added as a part of the paid version. It's a great way to let your users switch from the basic version to the premium version. 
4. Local Factors to Consider
While finalizing your app to choose a monetization structure, you can evaluate the local factors influencing the same. Look for factors like cost of living, cost of competing apps, or pricing models in the local sector to make an effective decision. 
As we all know that good decisions and step takes effort and careful research. 
Another significant factor influencing your app's potential to earn money is a comprehensive analysis of its running segments. Conduct research and evaluate the app metrics, existing and potential customers, purchase patterns, and user statistics to make an informed decision. 
No matter how or what strategy you choose, you need to be fully prepared to understand the whole metrics. You should be aware of which factors influence the user experience and how. Once you know about these factors, you can make effective plans to monetize your app. 
How CodeSparrk Helps you in Robust App Development? 
Before taking your dream and transforming it into your future booming business, choose a company that best suits your requirements for building your mobile application. You must choose a company that has a proven history of successful applications and expertise in the given field. 
That is why join hands with a mobile app development company that stops at nothing to provide you with a spitting image of your idea and transform it into robust mobile app development. 
We provide our clients with pre and post-launch applications with: 
Comprehensive Analysis
App Development Consultation
Test Driven and Reliable Engineering
Project Managers for Overall Supervision
24/7 Support team
Our branches are based in the UK, USA, Australia, and India. So be it any timezone, we give you customized schedules for meetings and discussions. With 500+ business verticals, we have created robust applications from startups to full-fledged enterprises.
Get a free consultation from CodeSparrk on your idea and discover your potential today!
Get a free consultation on your app idea today!
Frequently Asked Questions