Offshore Software Development – Benefits and Challenges
In this blog, learn what is offshore software development and its benefits and challenges in hiring. Read this in guide to hire best software development team.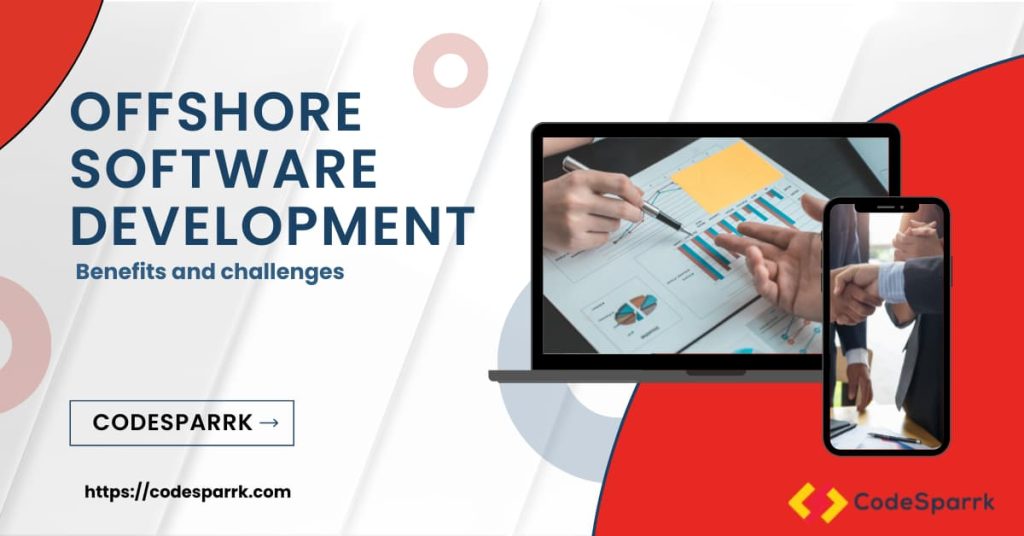 To get such blogs post please subscribe
Offshore Software Development – Benefits and Challenges
There is no doubt that businesses are blooming with competition globally. With the off-charts progress in the technological sector, the need for robust software development is rising by the day. In this case, mid, and small-size businesses to tech startups find it difficult to find the resources. With the competition rising, talent and reliable resources are getting scarcer.
In 2022, Offshoring software development becomes the most logical option for businesses to grow substantially. By offshoring development tasks, businesses can concentrate on the comprehensive development of the company. With go-to-market digital products, offshore developers simplify the process for you with a timely deployment. According to Statista, By the end of 2022, the market for IT services will generate $413.72 in profit.
If you have heard about offshoring development tossed around, you must also know that one wrong step in hiring the right team could lead to huge losses. The more benefits it has, the riskier it becomes to hire them. Keeping all the contingencies and challenges, we have made a Comprehensive guide to Offshore Software development. Get in-depth knowledge about the subject and make well-informed decisions in the future.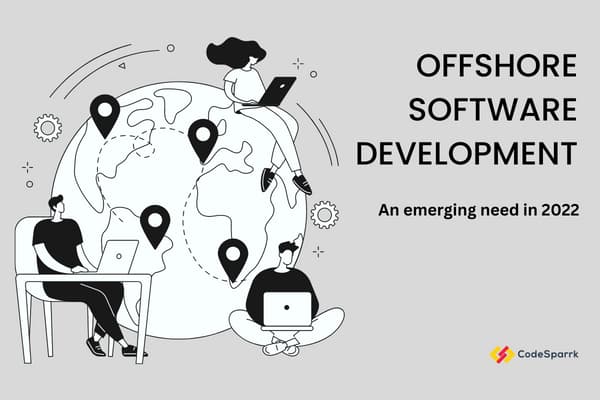 What is Offshore Software Development?
Offshoring Software Development refers to a tool that business companies use to procure reduced development costs. It is a third-party provider employed by a company for developing projects. These third-party services work with the company team collectively on a project basis.
For example, many companies like Google, CISCO, or IBM employ these offshore software development companies or a team overseas. The underlying difference is that they are located overseas or physically elsewhere.
Companies hire these offshore IT services mostly from resource-rich countries to get reduced operational costs. Hiring depends upon the need of the hour. Hence, they can employ a solo developer or a comprehensive team for the entire project.
The countries known for offshore development are South America, Poland, and India. These countries are enriched with skilled resources that make the operational costs low as compared to other options. Offshoring software development services offer assistance for the following segments:
Mobile App Development
Software testing
Web Designing
Project management
Business analysis
Custom mobile app development
Product management
Why Offshore Software Development is the best pick?
A business has many segments to look after, making it very hectic for evaluation. Offshoring software development makes it smoother for companies to delegate essential complicated tasks while the company can focus on other key developing factors. 
By hiring a third-party team, businesses can relax about the software development being deployed on the stipulated time within their budget. It enhances team functionality and fosters comprehensive growth. 
Here are some compelling reasons why offshore software development is the best pick for you:
1. Expert Engineering Team 
Offshore software development offers a plethora of services including web designing, custom software development, CRM systems, and much more. It not only gives you the edge over other competitive companies but provides expert advice and technical recommendations. 
From mid-size to startups, offshoring development is available for every range of businesses, providing budget-friendly team support. If you are looking to delegate with trusted and robust services, there is nothing better than to get these services!
2. Optimum Operational Costs
you. Assume your business is located in Sydney and Bangalore, India. As compared to the salary of employees, your company is paying less to the workers situated in Bangalore. The reasons are cheap labor costs and an abundance of resources.  
Hence, your overall running business in Bangalore is profitable to support the one in Sydney. This is the key factor as to why companies choose offshoring development over any other option.
3. Budget-friendly Development Costs
By opting for offshore development, you receive a lot of options in terms of development packages. Depending on the required skill set, you get to choose which option is the most suitable for you. 
For instance, you can hire offshore developers on a range from 60 dollars to 100 dollars per hour.
4. Timely Project Deployment 
Being a full-fledged offshore company itself, it comes with proper functionality and a streamlined process. So you can be sure of the delivery of your project on time. 
Although checking for legalities and framework is important before hiring offshore services, it depends upon the initial contract between the two for timely deployments. 
5. Access to Robust Technologies
It gets tough to find the skillset with robust technology stack for the development of your project. Offshoring software development is a good option when it comes to finding an expert team with access to the latest technologies. 
Get a plethora of options in the technology stack within your budget In this way, you can experiment and create out-of-the-box solutions that stand unique in the competitive market. 
When you develop a project with in-house developers, things can go south and could lead to high risks. However, offshoring development gives you the stipulated timeline with constant updates on the projects. 
However, it depends from company to company regarding their security and insurance policies. 
7. Enhances Overall Functionality
With a restrictive budget, businesses can use an expert hand with optimized resources. With a company overseas looking out for project management, you get the time and space to focus on other business growth factors. 
So now that we know everything about benefits, let's explore the challenges that come with offshore software development services.
What are the Challenges of Offshore Software Development and its Solutions?
With multiple benefits to enjoy, Offshoring software development comes with risks as well. It's highly important to check the authenticity of the company before making a big investment in it. Know about the drawbacks that can help in making the right decisions from the following:
One of the features of offshore companies is that they are located in remote locations. There may take place some miscommunications or delayed project management. We recommend you to make sure that the communications have been scheduled beforehand. Or you can always choose flexible timezones options from your offshore developers. 
As everything involved in the project management and software development process is remote, anything could go south. Ask for timely reports, meeting schedules, and updates to avoid any unnecessary delay. It is always important to stay one step ahead of the process. 
Kindly keep in mind to be familiar with the comprehensive process of offshore software development which we have covered in the following section. This helps you to be attentive and keep the procedure agile. This leads to timely deployment with collective hard work.
Again the reason arises in terms of security issues and confidentiality of the project. Kindly ensure the safety and security of your project idea and development by agreeing on signing Non-disclosure agreements. As nothing goes face-to-face, this will avoid unnecessary disputes that have the possibility to arise in the future.
Process to Hire Offshore Developers
Allowing a third-party service provider to indulge in your project, it is only diligent of you to understand the comprehensive process of offshore development. With multiple steps and rules to comply with, it is highly important to understand what are you getting into. Here are some recommended steps to take for seamless servicing:
1. Research Target Audience 
Before setting your eyes on a particular offshore development company, explore what edge you can give to your users in comparison to your competitors. Look out for the multiple services they provide. For instance, look where they procure traffic, what is their technology stack, or what is their work procedure. By researching these areas, you make better judgments while choosing what best complies with you. 
Make sure that the offshore company complies with the required laws of the given project. For instance, if your project is healthcare related in Europe, make sure it follows GDPR laws or follows HIPPA if it is US-oriented. Also in terms of payments, look out for systems that comply with your management. Taking care of these certain rules can help a lot in the process. 
Before hiring an offshore software development company, make sure to ask the right questions. We all know how the rule of "we will see how it goes" go. Therefore before making any further decisions, ask these questions: 
What is ROI we will receive?
What is your security and confidentiality policy?
What is the end solution for the proposed proposition?
What is the comprehensive goal of the product?
The one factor that could easily come as an obstacle is unnecessary delay. To make sure everything is on track within the stipulated timeline, ask the above-mentioned questions and schedule meetings with the project managers to be in the loop. 
Problems arise when you are aware of what is happening in the arena of product development. Make your offshore company responsible for each step and track timely progress. 
5. Bridge the Culture Gap
As most offshore software development company resides in different country, make sure to bridge the culture gap that comes with it. Promote collective teamwork and togetherness. Appreciate their work and culture of working towards the same goal. In the end, the goal must be achieved regardless of any cultural differences.
6. Check the Authenticity of the Offshore Team
With a lot of offshore companies floating in the market, it is of utmost importance to check the authenticity of the same. You must check its online presence with its official website. Research and dig a little deeper into previous work experience and successful projects. 
Through their testimonials and client stories, you can authenticate if you are joining hands with the right company or not.
How CodeSparrk Helps with Offshore Software Development?
With concluding our blog on this note, we are sure that you are now an expert on offshore software development. Where procuring offshoring development brings a plethora of benefits, it can get mind-boggling to find the right choice. 
We have the right solution for that as well! Join hands with a brand that has over 500+ successful projects running in the market. With the latest technology stacks come a team of experienced developers and team leaders that make sure you get timely updates and meetings. 
Located in the US, UK, and India, CodeSparrk is one of the trusted offshore software development companies. Get multiple testing, QA services, robust custom app development, and creative project conception at competitive price quotes. Get the right fit for your business and free consultation on your idea. 
Maintain your competitive edge and innovate with CodeSparrk today!
Looking for the dedicated team of Developers for Software Development
Frequently Asked Questions
Moving on your business process both service and production to a new country can help economically a lot, here are 3 key benefits of offshoring.
1. Low labor cost and skilled labor
The cost of living in developed countries is much higher than those countries that are still developing or underdeveloped, so it can be hard to find a capable candidate at a reasonable cost, Countries like India, china offers a large variety of skilled and qualified laborers at a low price thus it can help the company a lot economically.
2. Less Production cost 
The overall cost of types of equipment from hardware to software license needed can be bought at low cost.
3. Setting up the base of the company
 The company does not have to put a great deal into setting up the base and recruiting individuals hence, it can save the cost and can help in reducing the workload.
Why do people prefer offshore?
In order to minimize the overall tax and to save your hard-earned money, offshore asset protection can be really helpful also it reduces the risk and greater growth potential