Top 5 Celebrity Look Alike Apps: Features + New App Ideas + Business Models
Find out top 5 Trending Celebrity look alike app in 2022. Read on its features, business models & idea along with how to make money from app.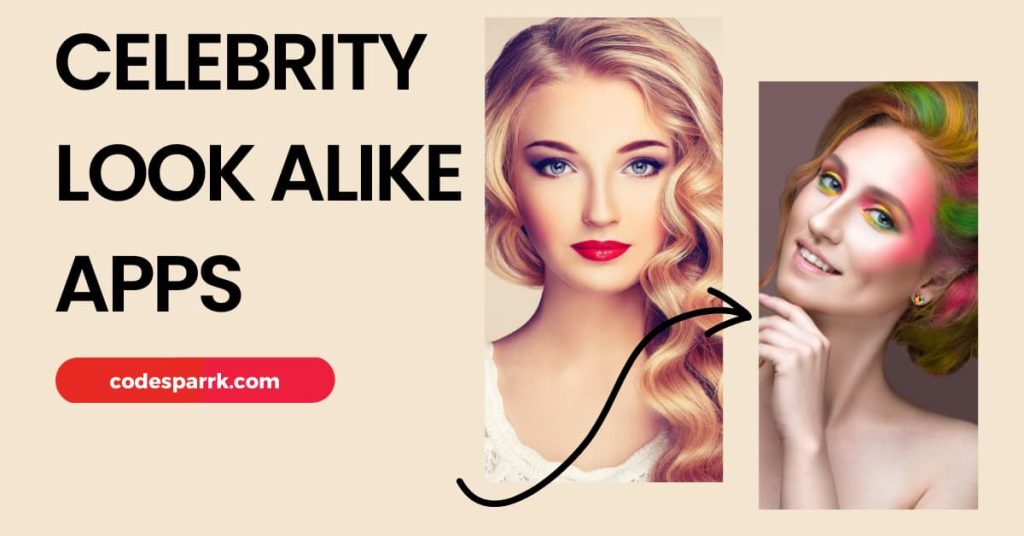 To get such blogs post please subscribe
Top 5 Celebrity Look Alike Apps: Features + New App Ideas + Business Models
If you are thinking to start a new company based on celebrity look alike app you have landed on a perfect article. This article will tell you everything about how the apps work and how the app like best celebrity look alike finder, find your celebrity and other free app for celebrity alike that generates these huge revenues. We will try to tell you everything about these celebrity lookalike applications free.
Want to develop app look like celebrity?
Nowadays everyone has access to smartphones which leads to a rise in the use of free social media platforms like Instagram, Twitter, Snapchat, Facebook which differs from reality. Everyone loves to show off their lifestyle on these platforms by sharing pictures and stories along with location with friends and family.
People are very interested in sharing their photos or selfies with all the people around the world, it's becoming a great source of entertainment developed by neural network features. Thus, technology has also improved providing people with all sorts of different mobile apps with innovative attributes and user-friendly interfaces for their entertainment.
FaceApp recognition has grown too; such apps make use of algorithms or identifying their faces of celebrities that go with their faces.
Peoples are curious about which famous personality they look close to whether being reality-show or sitcom celebrity or a movie star Usually, no specific authorizations are required to download such mobile apps and the apps are very user-friendly.
Here, we have made a list of the best celebrity look-alike in 2021 Along with inspiring features where you can download it on Android and iPhone easily.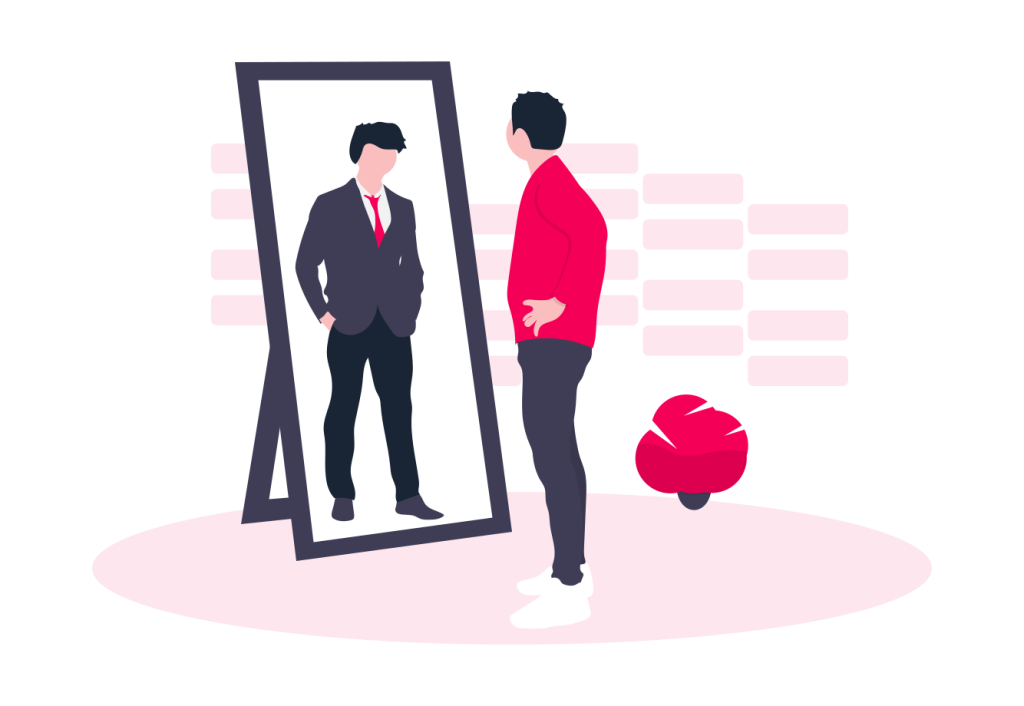 Top 5 celebrity look Alike apps in 2022
Gradient app is one of the best photo editor applications that comes up with a huge number of new and impressive characteristics mainly focusing on its user's data safety as their priority. Celebrity doppelgänger is the feature that allows its users to simply upload their images and view the best celebrity match best to them. Powered by AI and beautification techniques, this application is giving a promising experience to users while choosing their faces with the celebrity they look alike.
Top features of gradient app
Handmade filters and textures for beautiful outcomes.
Impressive AI portraits.
Estimate your beauty score with advancing AI technology.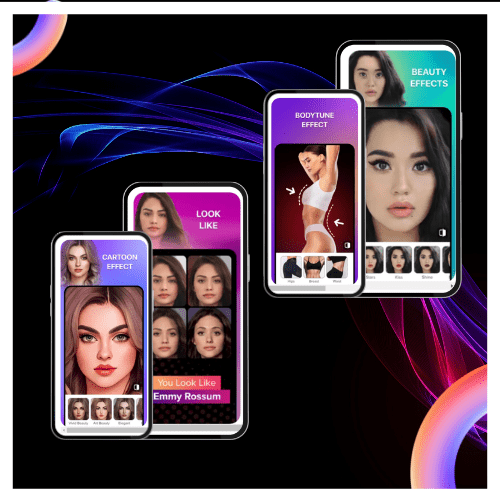 Celebs app is a wonderful application that involves impressive comparison and improved accuracy as it is built with machine learning technology. With the invention of machine learning in celebs it becomes very easy for the application to identify the right emotions And based on it, it drives the perfect possible outcomes which is why it has become very popular among folks.

Top features of celebs app
Recognition of the celebrities that exactly look similar.
Looking for the suitable lookalike.
Recognition of the twin faces
Recognition of the best resemblance of the famous person.
The astonishing feature of animals and birds to check who do you look similar to.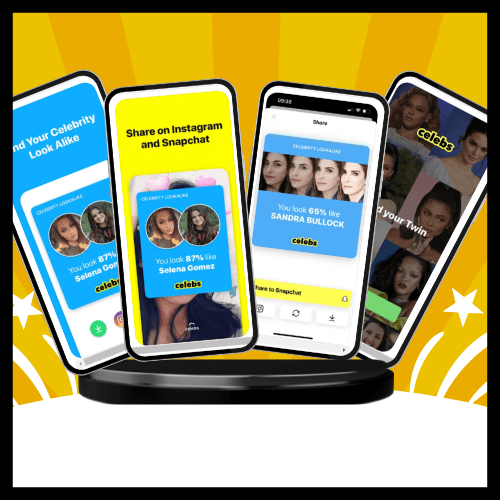 This look-alike app functions just as its name suggests works a creator to create pictures the same as famous faces. The app uses facial recognition technology to recognize the facial recognition data as the users upload any picture of themselves or their friends. The application is very particular about the privacy and security of the user as it doesn't save any personal data of the users unless and until it is allowed by any other means. All the photos are deleted once the identification process is completed.

Top features of Star by face app
Provides the perfect resolution of each modified picture.
Hundreds of celebrities are available, providing a variety of choices.
With a perfect usage of machine learning technology, humongous numbers of functions make the application more user-friendly.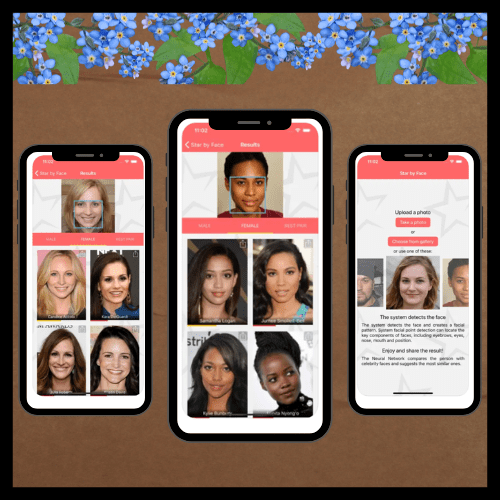 Y-Star is an app with series of unique properties that provide customers with the celebrity look-alike within just a few seconds. once the Y-Star app is downloaded on the device, just click a FOTO from the camera and the application scans the facial features and performs its magic, it provides its users with the best match from the vast collection of the famous celebrities available. the important task of this app is to answer the question of 'what celebrity do I look like? ' asked by the users. The app does not concern with gender, rather it provides an accurate solution to match faces to give celebrity twins.

Top Features of the Y-Star app:
The application provides the best and important results if used with the front cameras for taking pictures
The app includes the points on your face for the face measurement and bringing the best outcomes as the famous faces.
With the use of my Replica app, it becomes very easy to edit the photo more formally. The latest and important aspects of this app include the touches, retouches, and it's very easy for customers to grab the chance to apply better filtering to the selected photo. The app is supposed to do everything related to filtering to apply to the photo. It is very easy to share the ready image on social media platforms like Instagram, Facebook, WhatsApp, and many others.

Top features of my Replica app.
Questions like which celebrity do I look like? Which is my twin celebrity? Are answered.
The better suggestion is provided for contrasting the faces of users with the celebrity faces that match the most.
Balancing of user's face with well-known celebrities like singers, politicians, actresses, sportsperson and many more.
Best Celebrity Look-Alike Apps ideas to Consider (New App Ideas)
Voice-based celebrity lookalike apps
Right now, in reality, app users only have one aspect to compare with famous personalities that are through taking pictures from high-resolution cameras and selecting the best famous individual that matches the most. But what if such a match can be made through voice selection. For example, by taking a photo from the cell phone, the user gets an option to voice out the celebrity name. This thought allows users to choose the name of a celebrity from the list provided. To make this type of celebrity lookalike applications, voice-based technology can be worked and allow the customers to click pictures through their voice which could be a very innovative idea.
Cartoon look-alike apps for kids
Kids these days are experts in using smartphones and other devices. They mostly use it to play children's games, clicking photos, and jingle toons, and many more. So, we should make an app which will be mainly developed for children that once they take a picture, they will be provided with a number of cartoon characters. So, the application makes a great impact on children by catching their attention. This type of application will surely entertain children by giving them a whole new experience.
Which Technologies are used to make Celebrity lookalike app?
Artificial intelligence (AI) and machine learning (ML) are the main technologies used in development of celebrity lookalike apps.
Experts have developed sophisticated algorithms that help to identify and detect faces using artificial intelligence. When the artificial intelligence system detects a face, it generates a facial pattern. Then, a facial point detection system aids in the identification of key components such as the eyes, nose, brows, mouth, and position. The most accurate match is recommended to the user based on these components.
Besides that, machine learning entails the creation of algorithms that can learn from one another and improve. For example, the Machine Learning (ML) technology enables the app to learn from previous experiences and provide users with even more accurate matches.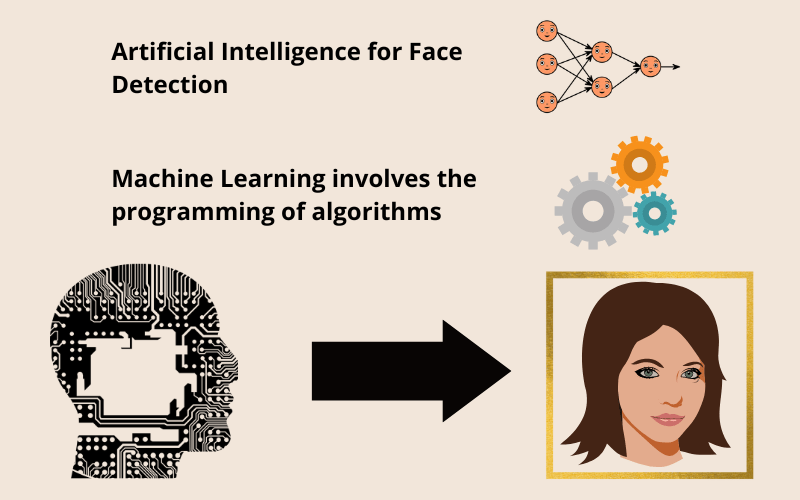 How do celebrity look alike app makes money? (Business Model)
When you think of making an app the first question is how will the app make money? Well, the revenue model of celebrity look alike app is pretty much based around important factors like whether it will be free or premium, the number of characteristics included, and also the functionalities provided. Following are the ways where these mobile apps can make money.
Nowadays, it's compulsory for a free application to include advertisements in the process. according to the recent surveys it is expected that more than 280 billion dollars will be spent on mobile advertising. The main role of a celebrity match application owner is to display their commercial inside the application. And one more way is they can go for affiliate marketing and get paid for third-party networks. Once the user gets the advertised app, the firm gets paid for each time user clicks on the displayed add, and other factors. This in turn becomes the main way for generating income from mobile apps.
One of the best tactics that many application publishers can opt for is selecting the best content to provide to the customer free of cost for some amount of time. In this case of celebrity lookalike app, many celebrities are included in the premium version. So, if the user wants to use that same face of a well-known personality as they resemble it, they need to pay money for it. The subscription usually includes the audios, tutorials, or other services that are making it to the market to a greater extent. So, the application must include some informative matter for increasing the revenue for an application.
The purest form of generating revenue is including the In-app purchases into the application. This assists in selling the virtual item directly from the application developed. The in-App purchases are usually used by celebrity look-alike app publishers as they are mainly involved in digital money. They charge for using the celebrity face in terms of important attributes and collection that brings the customers more impressively and innovatively.
How Much Does It Cost To Develop A Celebrity Look-Alike App?
The actual cost of creating an app depends on a variety of parameters. The crucial ones are as follows:
Development of native apps for iOS and Android
Designing UI/UX
Backend programming
Integration of outside parties and compliance requirements
The number of developers on the app's team
Location of the App Development Company
Even the most veteran and professional software developers in Asian nations cost between $50 and $90 per hour. As a result, hiring companies to handle your app development needs can be quite beneficial for you financially and in terms of quality. Here, you might have to invest between $25,000 and $40,000 for a quality celebrity lookalike application. The price might increase to $50,000 for a more sophisticated and feature-rich solution.
Want to develop look alike apps? Then you can hire dedicated app developers

Dedicated developers are provided for your project from leading mobile app development company Codesparrk. Our experts are capable of creating mobile apps (Android + iOS) for mobile, iPhone, and iPad devices.
Click to Hire Dedicated Developers
After reading this blog, if you want to develop a celebrity look alike-app then we are very strong and skilled developers who are capable of understanding the requirements of the clients and providing them with error-free application solutions for celebrity look-alike app.