Easy To Follow Guide- How to Make An App Like Tinder
Create an app like Tinder: The dating app market will continue to be profitable and attractive. This article provides a guide on creating an app like tinder.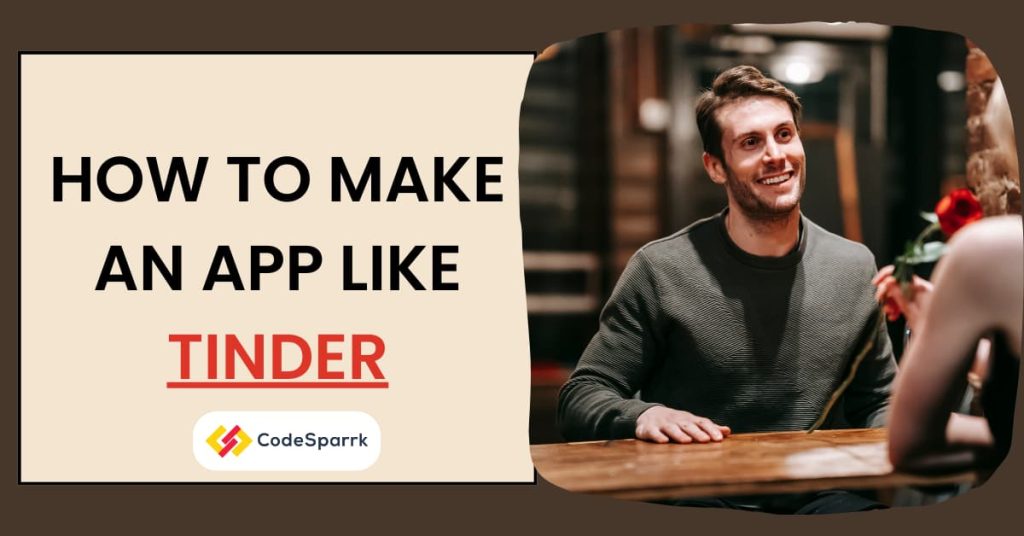 To get such blogs post please subscribe
Easy To Follow Guide- How to Make Apps Like Tinder
Our globe recently is on a pause because of coronavirus and that has changed how people met new people or got to know each other. Restaurants, pubs, multiplexes, are all closed which is making things harder for people to make a connection with someone else. This is where online dating apps come into the picture.
Create a dating app make it easy for you to connect with like-minded people, which boosts their importance. They are also fast and more efficient and make it easy for people to connect. These apps make it simple and increase the speed through sorting out potential dating partners. They make young adults their target. Earlier, people had very little exposure to such settings but now more than 50% of the people know a couple who has met through such a platform.
The use of dating services was very common before coronavirus, its importance has increased in lockdown. It's become a very natural thing to use this app to talk to someone. to download this app and register on it is a cakewalk.
As many companies are taking advantage of this situation, many new firms and different companies also wish to try their hands on it by making apps like tinder. They should start with making an app like tinder MVP that reshapes the way users make tinder account and helps them in understanding a dating app. 
If you're talking about tinder, it's at the apex point within the youth, where people find the process of meeting new people very easy. It has one of the most users of all free dating app. Many people come here for casual meetups but many have found their lifelong love here.
Overview for Use of Dating Apps Worldwide
Now almost used in 200+ countries users spend at least 45 minutes on tinder. It is available in 40 different languages and has made billions of potential matches since its launch in 2012, from which around 12% lead to marriage. Fun fact – 30% of the people who use tinder are married. And among the users, there are 63% of men and the rest are women.
More than anything just looking at its market shares can tell you a lot about its market story. tinder has become one of the popular dating apps in less than a decade by making its users spend $78million which is just a little bit more than its strongest competitor bumble.
It has become a top-notch dating app with millions of people.
It has passed over 1 million coffee dates a week.
A massive amount of 1.6 billion swipes happens every day and a total of 20 billion matches.
Users log in to the app about 11 times or more each day.
Hence, most business app-making companies should understand the process of how to make a tinder app as a role model. Which invokes the demand for building an app like tinder. As it has reached the apex of apps for dating and also attracts a lot of attention from the youths.
Some people are amateurs in making apps but some people know how to make a dating app, they provide you with a variety of options to meet the demands which come the current market and make a strategy for a targeted audience. The targeted audiences play a very crucial role in making successful apps.
A lot of things are taken into consideration while making an app, among then few are extremely important. Every app maker should go through them to make their app a better platform for the users which the purpose of this article. It is necessary to consider –
What are the different requirements your dating app should have?
What are the important features of the app?
How does it work?
What make dating sites like tinder?
What cost would it take to set up everything?
How can we make it even more impactful?
If you are interested in knowing the answers to all the questions that are written above, or you like the idea and curious to know how to make an apps like tinder you should definitely consider reading this further and learn about the main elements of building a dating apps like Tinder. 
How To Make an Apps Like Tinder?
To make a project successful you need to have the right team, so to make an online dating app, you'll need the right team to help you. Hence, an app development company having a nice experience in developing dating applications and being able to put the right technology to use.s
While choosing the right team many things should be taken into consideration as the location of the team members. The development costs can rise up to a very high level if you choose a team from Europe. But mainly, you need full-time dedicated tinder app resources that have a manager sharing every little detail with you. Following members should be included in an app development team.
3 IOS/Android Developers.
3 Backend Developers
2 UI/UX Designer
2 Project Managers
1-3 QA Engineers
Taking this into the idea let's calculate how much a tinder clone can cost?
Other than bringing the first-mover advantage, tinder's UX and UI play the most important role in the success. In today's era, you would want to stay unique with the app design and UX.
It's clear to everyone that you cannot make an app according to everyone's likings, but when it comes to providing a perfect template, the UX design will have to step into the user's mating process and patterns, the human psyche, and social norms.
It all comes down to inducing a user to tap and interact in such a way as just how a UI designer planned it in his wireframe. You should make sure that not a lot of graphics and buttons are used but three or four are used properly.
When you are deciding about how your dating app should look, consider three features- fun, involving, and simple. A smart UI design will consider the features that bring value to users and mix them while balancing other things with critical features as smoothly as possible.
Making a dating app will require the best integration of design and API with the app. Make sure to have a restful API that helps to connect a web server to any web-based client.
You can blend it with the API that makes it faster data transfer within and through the app.
This a solid stage that needs the right focus and expertise for making a dating app. The native development team will make use of SWIFT, object, java languages. App sets a higher standard for user navigation and swipes. So, note it should be pleasing and working with a touch of unique work.
It was initially launched for iOS and remained the same for two years before launching it for Android. There are compulsory app features for Android and iOS or some other platforms that you select to launch it from it must include user registration, creating accounts, matching mechanism, messaging, and geo-location.
Today's dating apps are made using Google's flutter to respond to inputs quicker.
In the end, the dating app costing and timeline where it can range from 1100 hours to 2000 hours.
What programming language does to make app like Tinder?
The most used features need only users to interact, but much technology Is needed in making the app. A simple technology will use HTML5, JavaScript, and python working as the main programming language paired with AWS mobile platform that creates and tests mobile apps.
As said earlier, the location feature is very important to the app, and therefore a dating app must utilize the GPS of a smartphone. For this, your tinder app maker will use Mango DB and Redis as both scalable databases. You can also choose from Mapbox which is an open-sourced platform for designing custom-made maps. As a part of security, you can also add GoDaddy SSL to ensure secure in-app purchases.
Key Features of Tinder-Like Dating Applications
1. User Profile, Sign-in Options and Authorization
Developing a user profile is based on all features in any dating app. The authorization of existing data and other social media profiles likes Instagram, Facebook which also becomes helpful if the user forgets their login id and password. It forms a way to create a tinder account without any trouble, which makes it smooth, quick, and popular.
The profile should have space where the users can write their likings and also what type of match, they want which will be very helpful in matchmaking.
It may have a bio, asl, dating preference, food-travel related things. Which keeps people engaged and they spend a lot of time in their 24 hours on the app.
Like other apps you can also give users a tour before starting the app of the most unique functionalities, this will make the new users understand the app better and can help the firm in convincing more people to stay for a longer time this application.
A lot of other dating applications make use of other social media platforms and social media like Instagram or Snapchat which can create more trust in people as they can go on these sites and understand more about the person they are looking, they can know more about the person by looking at their photos, location, their lifestyle, likes-dislikes, friend circle and much more.
2. Geolocation and Communication
One of the many impressive features of this app can be the feature of geo-location used in the development of the app. Here users can decide if they want to meet people in their close proximity of 10 miles or from different countries.
You can your development team to put geolocation API and core location while making the app. You have to decide for which software you're making the app- if you are making it for android then use of android location should be made and if you want to make it for IOS then the CLLocation manager class and map kit process will apply.
The user location permits them to view how close the other person is to where one needs to find the match, also it's easy to add the location-specific filters for the ease of users.
You can also add features like how often does the date say yes to coffee shops or bars, or which neighborhood do they live in, etc. this can add a lot of meaning to it.
One of the most intimidating functions can be of a search filter.
This filter can provide more choices to people giving them the feature to chat with or approve or disapprove certain people based on filters like age, gender, proximity, any other preference, etc.
It is also very time-saving as it just narrows down a huge list. This can turn things in favor of the user and will also help the firm to create a firm base.
It is important to have a sorted interface and a vis search filter button at the start which will make it very easy for the users, and this new app will become a very enjoyable platform.
You can add this feature which can turn the tables in this project. Through this noble feature, users can match with people around the world at any location. You can also provide options ranging from the same neighborhood to the same cities and also the same countries. It also is very helpful in converting the mass of people into your users.
You can choose the potential matches based on the distance or range you select.
You can choose 100m to 100km from your existing location. This phenomenal setting will help you minimize the distance and preference allowing you to expand or narrow the list of your results.
It also helps in knowing metrics and making data-based inputs. A distance metric helps in the smooth performance of the classification, clustering, and information retrieval process importantly.
In this new world, where youngsters show so many different preferences, tinder allows all sorts of gender to connect with their dates, where the discovery system allows users to invoke their gender data with sexual preference. Past explorations of gender and design revealed significant differences between men and women users with regard to the perception of dating applications..
You should be compulsorily above the age of 18 to join tinder.
Once you log in you are given a preference in a sliding scale UI. It saves the users time as they filter out their preferences according to their likings and disliking of the user.
The necessary feature you need to add when you develop a dating app is the feature to approve or disapprove a prospective match based on the photo, profile details, and preferences.
The matchmaking happens when both of the users swipe right compulsorily as left means no. if even one of the user swipes left the match won't be happening.
Tinder gives 20 swipes per day for free, if you wish to have unlimited swipes you should pay. having unlimited swipes increases your probability of making more potential matches and hence getting paired with a number of people.
This is one of the prime features of tinder which was made free from April 30, so that users could connect to people all over the world during the lockdown.
It allows the user to make temporary changes in the location. This feature proved to be very helpful and most of the people couldn't meet in person. Tinder passport helped in having a virtual date.
This is the main features in the app where people could get to know each other which is the main purpose of using it.
This feature is available after both right swipes. Therefore, it's necessary to have a match and once it is done the chat options also offer to send emojis and gifs to keep messages interesting.
This feature can be activated with the help of apple and google servers. The server sends push notifications to the application.
To make the dating yours have similar functionality your developer can use FCM for android and IOS for apple.
The goal is to send the user the message they want to receive. For example; the person talking to you may receive some alerts linked with a new message from the person you have been talking to.
The issues start getting personal as it comes to dealing with user issues. If a user wants to stop getting messages from a particular person then they can just block the person.
This is to ensure no incidents like harassment take place which can spoil the company name. this kind of feature is necessary to ensure the safety and security of users and to give them a good dating experience for which they come on this platform.
As mentioned earlier, the swiping feature is reserved and one of the ways to gain income. For example, the swipe feature generated 20x user activity.
Both options of premium and gold improved the matchmaking feature by 250%. There are also a lot of ways to make revenue through dating applications like tinder which include rewind last swipe, turning off ads, location change, etc.
Your app developer will have to add the in-app billing API for android and use the store kit framework for IOS.
How Does The Dating App Work?
This app has a two-way algorithm. The first includes finding out real-time and location of the user's place and looking for potential dates. The location-based algorithm uses the distance between the two users on their choice of whether they want to meet in the future or not!
If they like to meet the matches from a closer distance will be found and if not, farther distance will opt. It boasts a location-based display so that people living nearby can actually meet in real life. User goes through a predetermined outcome once a particular activity is triggered.
The initial half needs to run smoothly for the later half to be effective. The secondary algorithm is always based on important features like – likes received by a profile, interaction with dates. This algorithm will depend on how the matches happen and whether a better looking person with a complete can be ranked higher and shown to everyone.
Such algorithms take note of personal details and preferences into considerations and therefore it's smooth to apply them.
Then there are other tailored algorithms differing for each dating app where it puts people in small groups based on how they interact and behave on the app. The algorithm will help them put the people of the same category together.
Pros and Cons of Using Dating Apps
The arrival of these apps has created a big change by allowing users to find someone nearby at the touch of a button. This generation has chosen to use a quick, enjoyable, and (sometimes) the best way of dating in order to find their ideal partner. So lets discuss on pros and cons of dating apps.
Easy to use and convenient – They have made everything incredibly simple and practical, from making friends to finding your true partner. To find the ideal match, all one needs to do is download an app, post a few attractive photos, and provide the necessary details.
Approachable – For introverts who find it difficult to approach others, dating applications offer a fantastic way to get over their fear of being rejected.
Improves Confidence – These apps let users be themselves, and by doing so, one's self-confidence is boosted. In contrast to the real world, dating apps are judgment-free.
Confidentiality – Dating apps provide users the option to pick who they wish to communicate with and make it simple to report someone who abuses the service.
Anxiety – For many people, signing up for a dating app seems risky and desperate. With the recent appearance of a few clean dating apps, this has been progressively changing, and more people are feeling safe using these apps to discover genuine love.
Cyber Crime – People who are involved in online dating are frequently the targets of online crimes like bullying and other scams like being tracked when the app exposes the location where you met the person.
There are many options available; users should select the app that best meets their demands and has a good reputation.
Lack of integrity – People frequently lie about their occupation, their personality, even their entire life. However, some applications feature a robust verification system, therefore one should always be honest while using such apps.
Distance – Due to the accessibility of these apps, people often use them while traveling, which results in encounters with people from all over the world and makes one wonder whether or not long distance and serious relationships are worthwhile.
Be considering above things you can choose which platform best for you according you need. So be safe and choose best while using dating applications or online dating sites.
Dating app development with CodeSparrk
We have made many successful popular dating apps before and a number of other apps that keep you glued to the screen. If you are still wondering then it's best to talk to our online dating app experts who can set you in the right direction. We are one of leading app developers in Austin Texas, USA With our 12 years of experience; we will build an extraordinary and effective dating app for you. Connect with us to gather more information regarding the same.