Top 10 Mobile App Development Companies In Austin, Texas
Explore the list of top 10 Mobile app companies in Austin Texas, USA, If you are looking to develop an mobile app contact CodeSparrk now!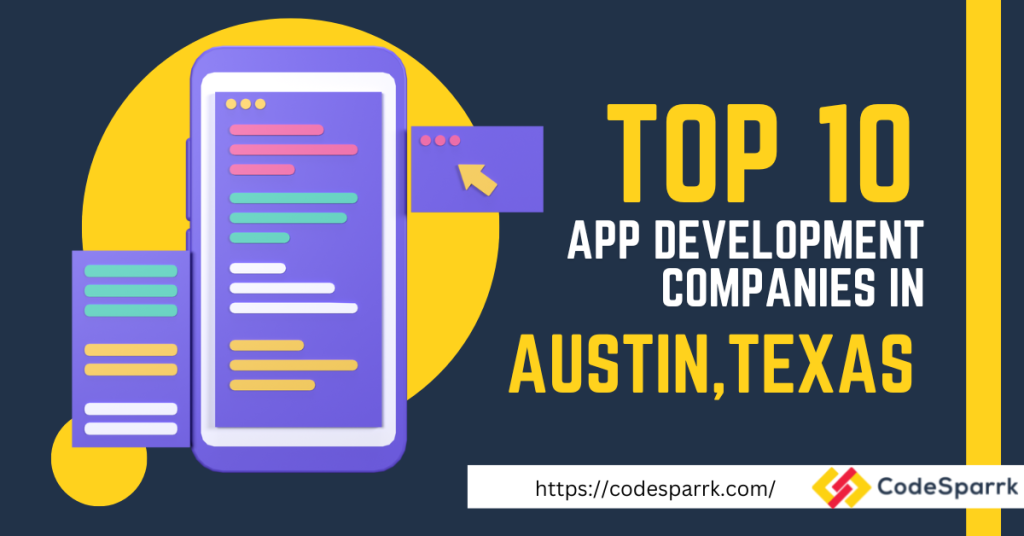 To get such blogs post please subscribe
Top 10 Mobile App Development Companies In Austin, Texas
Searching for the best mobile app development companies in Austin? We have got you covered! We have brought you a comprehensive blog on the top mobile development companies in Austin tx on the basis of top portfolios, budgets, years of experience, and expert teams.
Usually, when you are looking for a mobile app development company, there are a plethora of things to keep in mind. Otherwise, loads of time, money, and hard work would be wasted. Choosing the right one is important for your business. Austin is most likely the place for finding the right IT developers. As it has become the hub of IT companies including major companies like Google, Facebook, and Oracle among others, and space for growing the most potential ones.
Therefore, before diving right into hiring, define your goals and objectives. Have a thorough conversation where you must communicate your expectations. Ask them about their reviews, portfolios, reviews, and references.
In this fast-paced world, where our lives revolve around smartphones, having a mobile application is going to attract potential customers. 
Without further ado, let's read the list of the top 10 mobile app development companies in Austin in 2022
The BHW Group is one of the best Austin Tx-based app development companies. With 11+ years, they have highly experienced IT developers who have worked with over 55 clients to develop over 350+ web and mobile applications. 
The BHW company does not only value your project but works comprehensively to hand over customized mobile solutions. To cater to your specific needs, they make sure to define, design, and develop your applications within due time and creativity. This company is repetitively known for its high-quality digital products and timely deployment. It is a fast-growing company that is indicative of using top-notch open-source technologies and skillful developers. So if you want your app to have creative hands on it with the experienced and robust team, then BHW Group is your ideal fit. 
A bespoke software developer who delivers out-of-the-box software products. SovTech is a growth-driven technology business that offers budget-friendly flexible engagement models to develop top digital products. With more than a decade of experience in the IT field, SovTech has worked in multi-industries, retaining high experience in a plethora of fields. 
With flexible subscriptions, SovTech is all geared to provide scalable and sustainable products. Fuel your business growth with customized solutions based on a thorough consultation. They have a high-class record of clients that work in multiple fields including FinTechs, Insure Techs, retail, e-commerce, and much more. Get the best mobile app developers in Austin and collate with vastly experienced developers with bespoke solutions to dynamic problems. 
CodeSparrk is one of the best companies in Austin Tx, US when it comes to delivering tailored IT solutions to clients. We serve small, and mid-sized businesses to full-fledged enterprises, providing scalable and progressive solutions to each industry for more than 13 years now. We are accompanied by passionate people who acknowledge the root problem of your business and develop tailored solutions accordingly. Get mobile app solutions for the e-learning, fitness, healthcare, and finance sectors as well as for startups.
Our intelligent software developers craft and provide unique, flawless, and agile software development services. We ensure robust security for your application and insist upon evolving it to more strength and stability; our top-notch services allow you to optimize your business, making us the best choice for you. Get flexible engagement models and free consultation on your idea today and transform your idea into reality.
Known for its services, SoluLab is known for its successful customer score with 50M+ active users for its apps. Their famous client history includes some of the Fortune 500 enterprises including Walt Disney, Goldman Sachs, and Mercedes Benz among others. This award-winning software company offers comprehensive services to all kinds of businesses including startups to full-fledged enterprises. They have robust technologies including Cloud, Chatbots, Blockchain, AI, and Augmented and Virtual reality, among others. 
SoluLab aims to save 50% on hiring costs with robust hiring models. With 180+ industry experts, take advantage of agile software development for all projects. They have a wide range of software solutions catering to 25+ industry verticals. Discuss your idea with them and unlock a better ROI journey. 
A full-stack web and mobile application development company, Raftlabs is famous for its robust app development process. They are driven to make each user experience satisfactory and target potential customers. With over 10+ years of experience, their experts build streaming videos and digital commerce solutions for all kinds of businesses including startups to full-fledged enterprises. 
Partner with a robust IT solutions company that has been delivering the latest technology stack with out-of-the-box digital solutions. With Raftlabs, clients get the utmost clarity on the subject and an in-depth understanding of the entire process.
One of the best mobile application developers companies in Austin TX, Openxcell provide value to their clients by focusing on their growth parameters. With more than 3000+, mobile apps being submitted in App Stores, Openxcell stands out in the race with over 15M+ active users globally. 
Leverage the latest tools and expert project management skills with Openxcell and get robust solutions tailored to your problems. Openxcell is affiliated with intentional associations including NASSCOM and IGDA. Partner with certified developers and be a part of their revenue-generating business solutions. 
Utility is a web and mobile app development company in Austin, Texas that have hands-on experience in a myriad of fields. They ensure that the client has a comprehensive understanding of the business they are investing in. Utility was founded by digital leaders including Major League Baseball and McCann Erickson. They have crafted custom mobile solutions and have partnered with some of the major Fortune 500 companies. 
Join hands with some of the best developers in Austin, Texas, and get excellent user experience and top-tier software engineers.
A group of skilled designers, Thoughtbot is a modern team of app developers who brings notable web and mobile app solutions for clients. Thoughtbot is a well-structured IT company who has lays emphasis on maintaining quality and security. Get timely deployment and a comprehensive understanding of your projects in regular meetings with their project managers. 
All their projects are assured of well-designed structures with post-its and prototypes. They intend to create user-oriented mobile applications through extensive design sprints and user research.
Based entirely in the United States, Enola Labs Software developers tailored solutions to address complex propositions of businesses. Through the robust mechanism of building web and mobile applications, Enola Labs software has provided professionalism to clients including startups to companies in Fortune 500. 
They believe in working collaboratively with the client through utmost transparency and trust. From the ideation process to post-launch, their team provides every update and alteration. Work with high senior team with years of experience to bring out the best in your business.
A trusted web and mobile application development company, Quytech is known for its all-inclusive user immersive experience. With over 10+ years of experience, Quytech has helped startups to take their first step in the right direction. Their experienced team is known for their highly interactive UI UX, impeccable design, and flawless functionalities. 
They offer services in the field of Android/ iOS app development, Flutter app development, AI/ML app development, Blockchain development, Unity/Unreal game development, AR/VR app development, React /Angular development, and more. They have been serving in a myriad of industries including Healthcare, Fitness, Sports, Education, eLearning, CPG, Retail, eCommerce, Real Estate, Hospitality, Travel, and other business verticals. Get an unmatched experience with flawless functionalities in Quytech and get budget-friendly solutions today.
Receiving the right web and mobile app solutions is necessary for the process of taking your business to reach its potential. Now you can make the right choice from the Top 10 Mobile app development companies in Austin, Texas. 
To leave a lasting impact on your users, CodeSparrk is the right option for you. With the desired skills and customized mobile app solutions, CodeSparrk fuels your business with just the right services and solutions. 
Get a free consultation on your idea and explore your potential with us! For more