Best Relaxation Apps To Try Out in 2023
You only live once and you should make the most of it! If you're looking for a way to relax, these apps are the perfect place to start.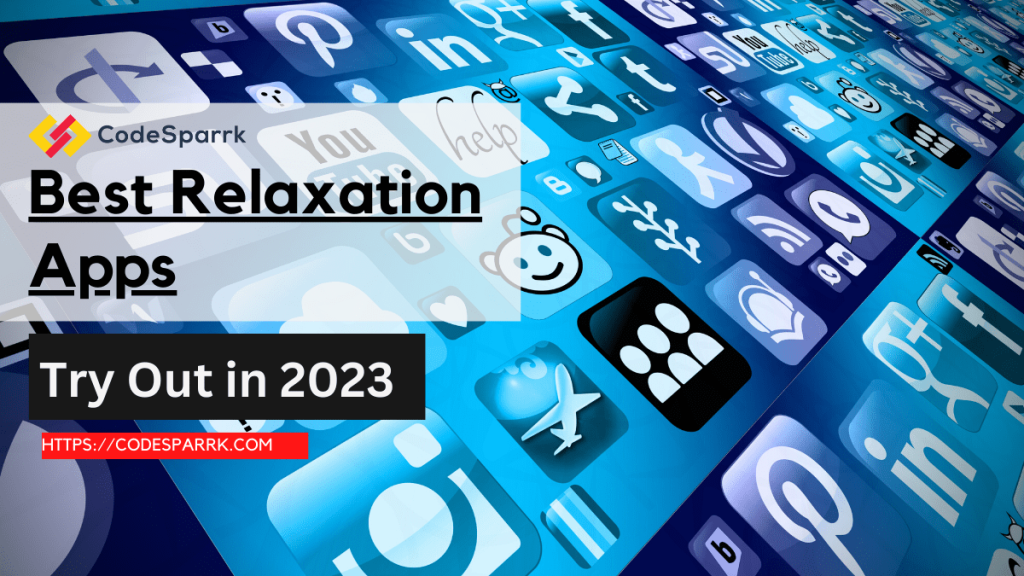 To get such blogs post please subscribe
Best Relaxation Apps To Try Out in 2022!
Wondering about relaxation techniques, but the thought tires you out? Fitness and relaxation streaming apps have made it easy to have virtual exercise classes at your fingertips. Amidst the pandemic, fitness streaming apps are beneficial in keeping you fit when you have plenty of time on your hands.
This fitness tool offers you workout charts for different relaxation goals. You can unlock premium features at a nominal cost. But this tool has not been launched in many countries and does not cover all aspects. However, if you are looking for relaxation apps, we have reviewed the 8 best Relaxation apps to consider in 2022. Read on about the relaxation apps with their pros and cons list.
One of the best relaxation apps Breethe teaches you how to detoxify the whole day's stress with improved sleep. This app offers calm sleep and teaches you to sleep like a baby in just a few minutes. Had trouble navigating small thighs in life? Breathe has got it all covered. With expert coach Lynne Goldberg, tackle your challenges with confidence and master mindfulness in a full-fledged program. 
Get relaxed melodies and the app's sleep music playlists including nature sounds and stories to keep you relaxed. Upgrade to premium after 14 days of a free trial at a rate of 12.99 dollars per month. 
Pros 
Scheduled meditation for 5 minutes daily
Explore a plethora of other relaxing exercises
Free trial 
Cons 
Payment after 14 days
Might occur technical issues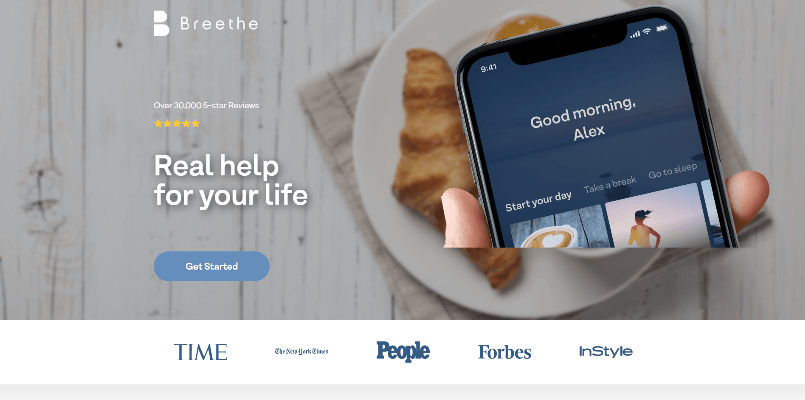 A well-known relaxing app, Calm has been popular for soothing background sounds and meditation sounds. Calm has won awards for offering the best exercises and breathing techniques to relax your mind and body. It has different sections for each type of group age. From Calm kids for kids 3 to 17 to adults 17 and above, Calm recognizes factors and customized them accordingly. 
Not only this, you get famous actors' voices to guide you to sleep including Matthew McConaughey or Jerome Flynn. The app is accessible on both Android and Apple devices. Find new breathing exercises, meditation sounds, and calming exercises. This app is available for a 7-free day trial after which you have to buy it at 15 dollars per month. 
Pros 
Available on Apple devices
Calming and meditation music 
Easy interface
Cons 
Subscription Cost
A technical issue might occur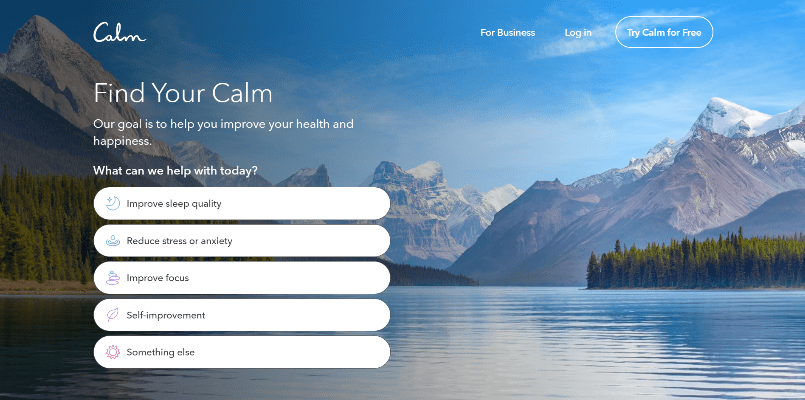 Get a user-friendly comprehensive app for calming your mind and body. Headspace is one of our best picks that is promoting mindfulness, better sleep, reduced pain, etc. Be it on your way to the office or while studying, switch on the features of calmness through multiple features. For bedtime, it offers storytelling podcasts, nature sounds, relaxing melodies, music, etc. This app customizes according to your preferences. 
After a14-day free trial, you have to buy a Headspace premium at a cost of 7o dollars annually or 13 dollars monthly.
Pros 
Free Download
Meditation guides for all levels
Available on all Android devices and iOS devices
Bug library for meditation courses 
Cons 
Limited free content
Premium cost
Technical errors might occur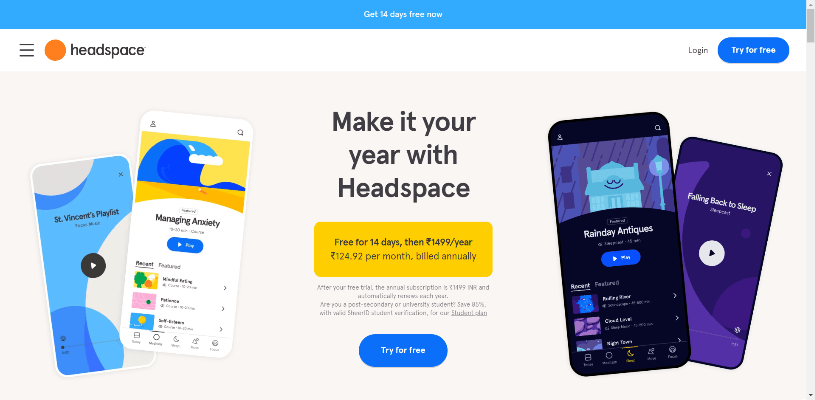 Be it traveling, working, waking up, eating, or even scrolling on your phone, you can find a different exercise for each kind of activity within this app, with more than 200 meditations, Budhhify offers techniques to lower your anxiety levels. The programs are customized according to the level of expertise ranging from beginners to experienced practitioners.
There is no free content or trial available and the premium costs 5 dollars per month. 
Pros 
Customize meditation exercises based on the challenge
Easy to use
Timer available for exercises 
Cons 
No free trial is available
Technical issues might occur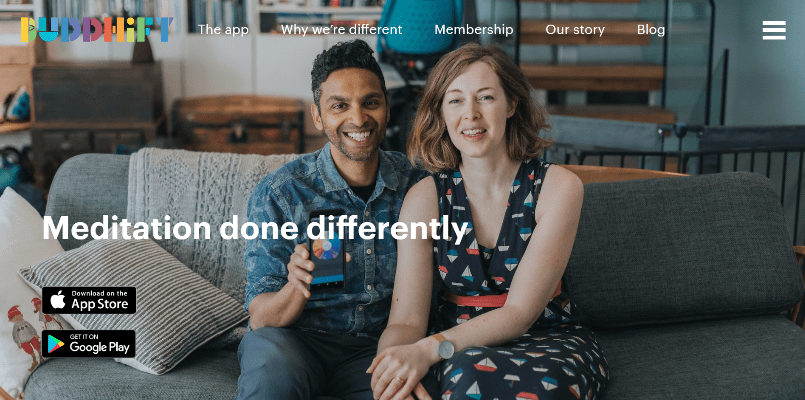 Every app teaches the basics of meditation but you become a master only when you know how to control your breathing. Breathe+ helps you master breathing for procuring fill benefits like meditative breathing, and holding breathe for more than 30 seconds setting your target with every set. Try this today and experience how simple things affect your life daily.
This app has robust features available with a free trial. To further remove ads, buy different premium specifications at 1 dollar per month, 5 dollars per year, and 9 dollars for lifetime access. 
Pros 
Lifetime access
Easy to use
Free content 
Cons 
Ads with free version
Only apple users
Limited meditation techniques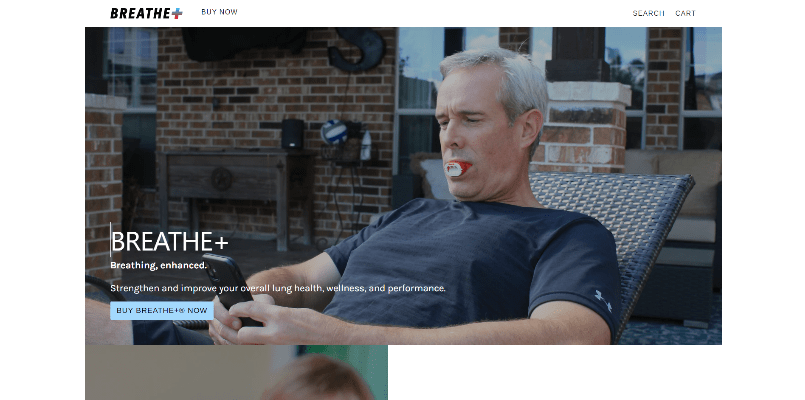 Mindfulness with Petit BamBou
Offering robust meditation features for kids 5 or adults who want to attain cam with a plethora of functions to choose from. This app guides you through meditation courses tailored for everyone who is willing to change their life. This app comes in exercises ranging from 3 to 50 minutes according to your time availability and offers features in multiple languages including Spanish, German, and English. 
This app is perfect for awakening your inner self as it is based on the science of positive psychology, behavioral therapy, and mindfulness. You can opt for both free and paid versions. 
Pros 
Available in multiple languages
For all ages and for children as well
Variety of courses and calm sounds 
Cons 
Overwhelming options
Technical issues might occur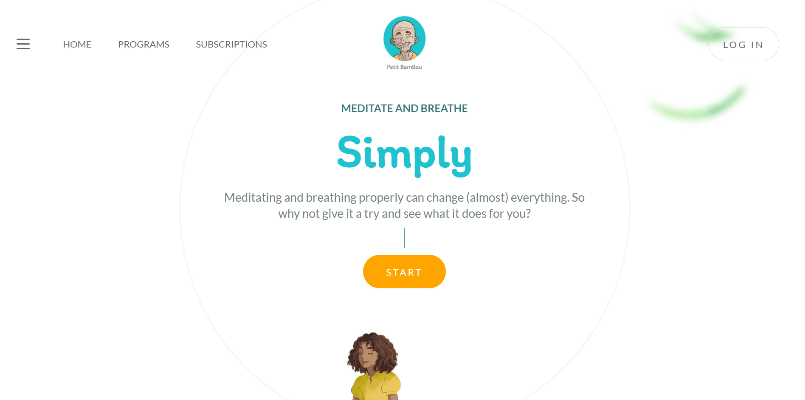 Sam Harris is a New York Times bestselling author who has written about many topics related to body, mind, and spirituality. He has developed something new with a huge collection of science-backed meditation courses and other resources that can assist you in attaining mindfulness. Waking Up is a health app that is all inclusive of all the exercises and educational tools to attain calm sleep. This is one of the best relaxation apps there is that can help elevate your inner self. 
Free content is not available. It costs you 100 dollars per year to join. Or you can join at 799 dollars for lifetime access. 
Pros 
Lifetime access at 799 dollars
Full refund available 
Cons 
Subscription price
Technical errors might occur
Need a meditational fix? This relaxation app comprises various short exercises to calm your nerves and leaves you with a soothing self. Now track your sessions and experience the improvement better. This app is exclusively available for apple users. 
Pros 
Quick relief from stress
Most content is free 
Cons 
Not available for Android users
Limited options for exercises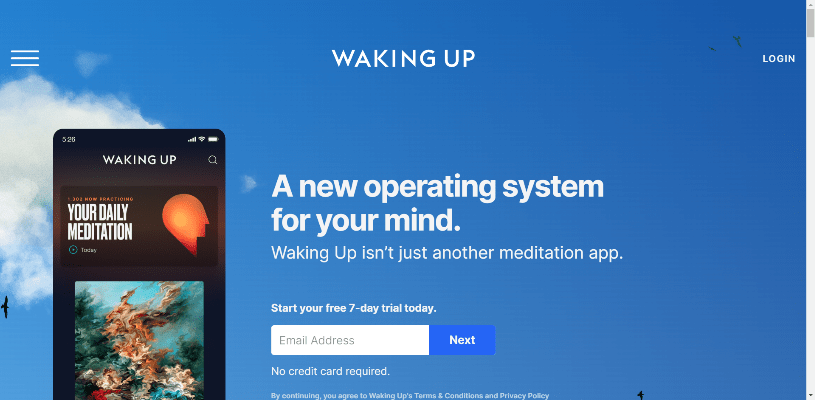 Benefits of Using Relaxation Apps
If you still don't know how these relaxing apps are bliss for your improving your life, then look at some of the core benefits of relaxation or mindfulness apps: 
Reducing Stress: Relaxation apps has in build best features for mediation. Meditation is a great way of reducing way. Basically, when you focus on disintegrating your thoughts, you can focus on the ones that are important to you rather than focusing on each surpassing thought. Those feature can help you track and create an habit of daily meditation for work or day to today activity.
Improved Sleep: These apps has some features that helps to improve you sleep like, sounds or calming musics to bring you sleep. If you have insomnia or trouble focusing on sleep, Such apps can help. A study showed that you have improved sleep schedules once you start the habit of meditating. 
Helping with addictions: This is one of the most important effects of meditation. If your addiction to phones, any substance, or even bad habits, meditation helps you clear all. 
How CodeSparrk Helps You in Relaxation App Development?
As one of the leading app development companies, we provide you with robust features developed by a team of skilled team of app developers. CodeSparrk has the latest technology stack and uses top-notch features to build your relaxation app. 
CodeSparrk's offices are located in the UK, USA, and India. We are accompanied by passionate people who are here to help such passionate business leaders. We understand the importance of your business and prioritize the software you need accordingly. We crucially acknowledge the seriousness of your business, and therefore we lay out a perfect step-by-step plan. Our intelligent software developers craft unique, flawless, and flexible software for you. We ensure robust security for your application and insist upon evolving it to more strength and stability; our top-notch services allow you to optimize your business, making us the best choice for you.
In case your mind lands on an interesting meditation app idea, contact us today for transforming your idea into reality.
Frequently Asked Questions (FAQs)
When talking about robust apps like Calm and headspace, the process is not as easy as it seems. You have to focus on a lot of things. Let CodeSparrk worry about everything else while we develop the relaxation app of your dreams. We recommend the best technology stack and help in building a top Wellness and Fitness app development company. 
The average cost of building a good app varies from 170k dollars to 193k dollars. Although it depends on a lot of factors. 
Get a free quote from CodeSparrk and contact us for getting recommendations on your idea.