How to Make an iPhone App (2022 Guide)
Learn how to make an iPhone app in 2022. Know more about ios app development and its process from our expert guide.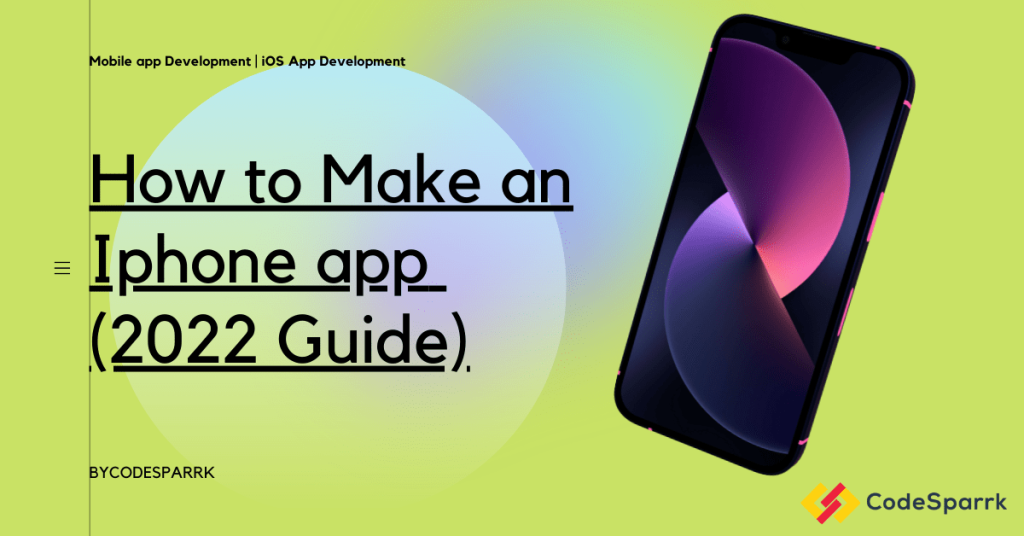 To get such blogs post please subscribe
How to Make an iPhone App (2022 Guide)
To understand what is an iOS app development, we must understand the elements and steps involved in the process. iOS being a popular choice among users, choosing an iOS app would be the right way to go. Existing entrepreneurs and new businesses look forward to recognizing opportunities associated with iOS mobile app development.
We know that it could be mind-boggling to find out everything about how to make an iPhone app. Let's unravel the iOS app development process and shortcuts to process. Identify key developer requirements, choose the right programming language and get robust resources with our blog. Let's get started!
Building an iOS app can seem daunting. The iOS software could be confusing to figure out as it continuously changes. With the recent introduction of SwiftUI, Combine, and other technologies, you need a step-by-step guide to figure out the whole procedure of getting started with iOS app development.
Be it any app, you need to configure the fundamentals and concepts of such technology, that help you to clarify everything about the basics. It could help you develop more complex code and devise something interesting of your own.
If you are a newbie or just stuck in the process of iphone app development, you have come to the right place. We have collected all the information and jotted it down in a simplified way.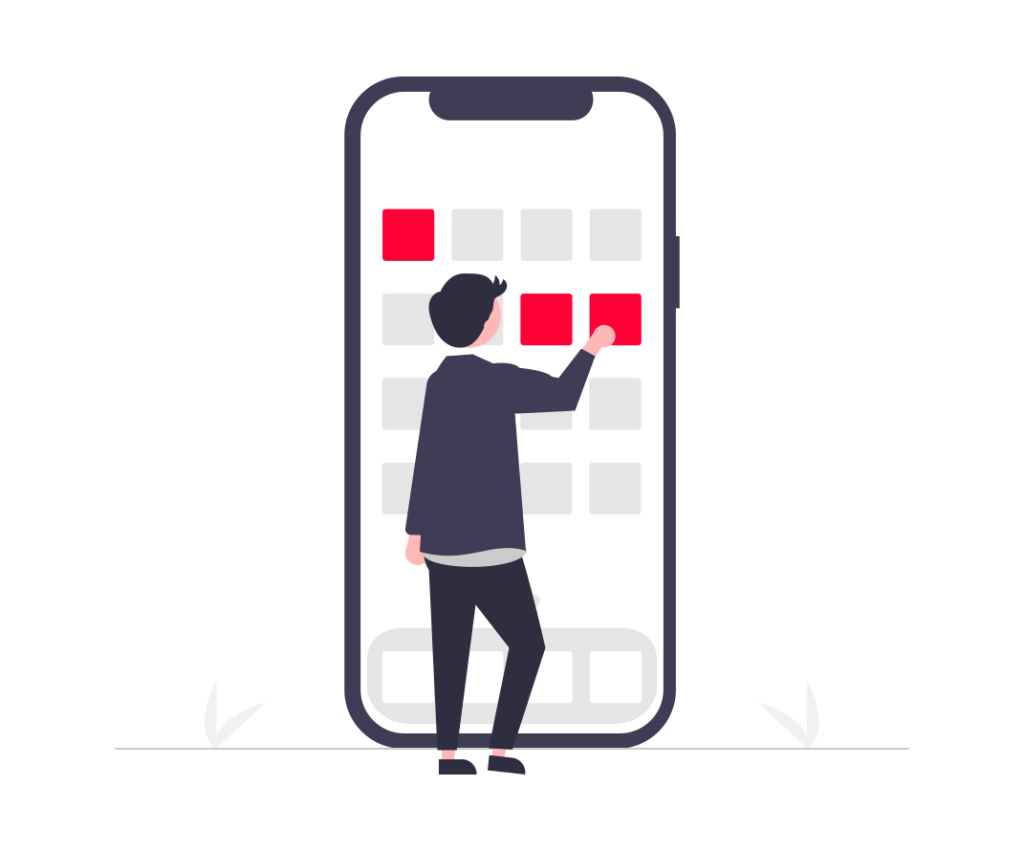 How to make an ios/iphone app Important iPhone Statistics (2022)
What is iOS App Development?
The answer to what is an iOS app development is the process of developing applications for Apple hardware that complies with the essentials of iOS software. All Apple devices including iPad, iPhone, and iPod touch are the platforms where your iOS app would be used.
You would be needing a few things before starting with the iOS app development. The first thing would be a Mac computer with an intel /ARM processor. It could be any Mac you have purchased in the last few years which will suffice. The second thing you will be needing is Xcode 12 and Swift 5.3 which is the main app development tool used in the process. You can also opt for downloading the Xcode for free from the Mac App Store. We have listed the prerequisites in detail below. Let's have a look at these efficient tools that you can easily find.
The requirement to Develop iPhone/iOS Apps 
Before you write a single code, you will be needing the following: 
Integrated Development Environment (IDE)
The first and foremost you need towards making iOS app development is the Integrated Development environment. It is the app development tool that is required. 
It includes a plethora of tools that you can explore and use. As stated above, Xcode is the official tool for Apple software. The second thing will be a Mac computer of any version you have. You can opt to use this tool on windows but if you want to work everything right, go for iOS hardware. 
Xcode not only lets you create iOS apps but you can use it to distribute your app on every Apple device. Be it Mac, Apple Watch, and Apple TV, you can use a wide array of SDK, compilers, frameworks, and tools for managing everything and organizing your files efficiently. Download it from the Mac App store for free.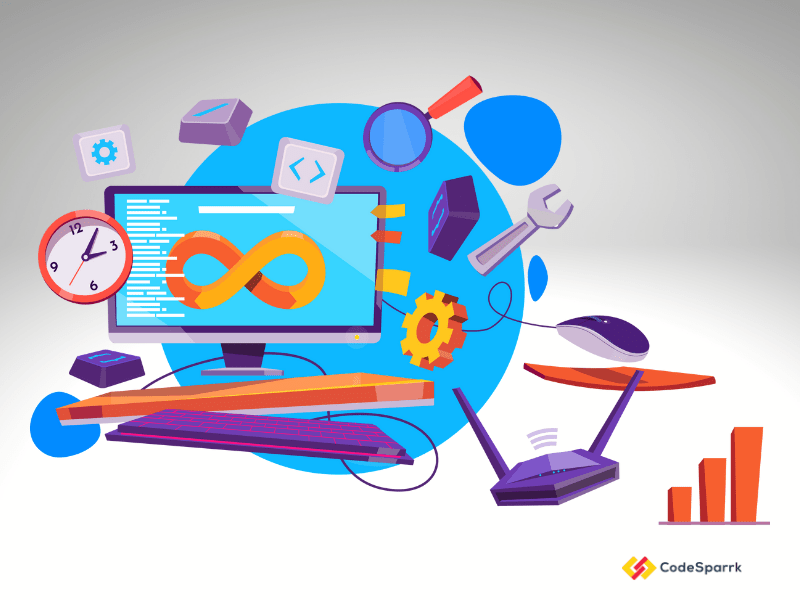 iOS Programming language to build an app
The next step is to choose a programming language to go forward with. You can choose the latest one which is the Swift programming language. It is quite the new favorite for iOS development. Especially if you have chosen Xcode, you should opt for Swift. Besides this, you can opt for Objective-C which is also a useful option and efficient as well. 
While it depends on the object of your app, you can take any programming language that is oriented towards your goals besides these options.
What programming language is used in iOS?
Such as Java, Python, C++, Ruby, and much more you can explore for initial iOS app development.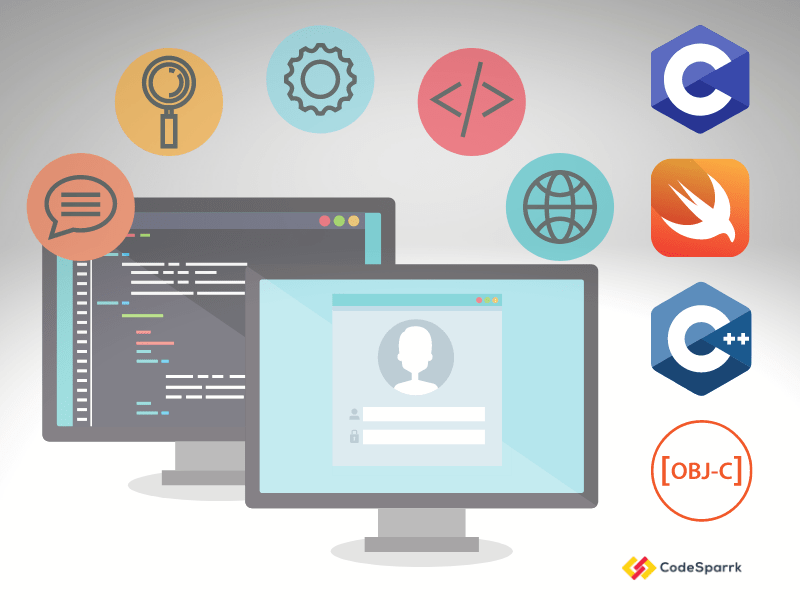 iOS Software Development Kit (SDK)
Explore the tools, technologies, and frameworks needed to get started with iphone app development. An SDK is needed as it provides a plethora of tools, more than an IDE provides. It makes your iOS app development possible. Some iOS SDK essentials include UIKit, GameKit, Foundation Kit, and MapKit among other things. These options help you to explore different aspects of the iPhone or iPad camera. 
We recommend choosing Xcode as it gives you a plethora of SDKs with an extensive library to use for the robust development of the iOS app.These were some prerequisites of iOS app development. If you are a newbie, or just got this new adrenaline rush to make your iOS app, then this guide is all you need. Let's have a look at the step-by-step guide to getting started with app development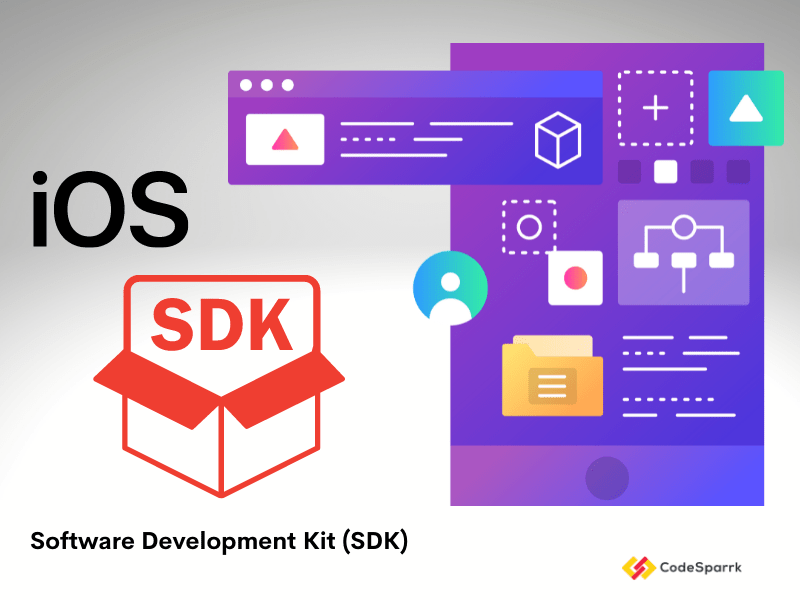 A Step-by-Step Guide to iOS App Development
Now that you know the basic requirements of how to make an iPhone app, under this section, explore the steps involved from beginning to end. Make your app from scratch by following these steps. 
Extensive Research and Specified Goal :
The initial step in the process of how to make an iPhone app is to plan and analyze. 
Analyze the app market. With millions of users, specifying your target audience with what kind of app you want to build would be the wise step to take. Nobody wants to spend all their hard work in vain. And that is why it is pertinent to find out your competitors, and the underlying developments in your specified field.
A specific audience is a way to go. Each target audience looks forward to some robust specifications in the absence of which your app could fail drastically. Some iOS users value cutting-edge technology and design. So make sure to list the common and trendy designs, and experiment with your creativity to stand down in the market.
Competitors as we stated above are a crucial thing to explore. By knowing your competitors you shall be aware of the upcoming challenges you might face after the launch of your app or even during the making of your iOS app development. 
Sort out Guidelines for App Store
After the making of the iOS app, you need to sort out the guidelines required by the App Store. The guiding principle of the App Store has five rules to follow. That is safety, performance, business, design, and legal to keep in mind and meet them timely. Before submitting, make sure to carefully go through these requirements. 
So, while designing the app, you need to go through these essential steps:
Conceptualization: At this stage, your ideas become concrete by checking the viability and carefully examining the miscellaneous factors. The wireframes are being made that give you the outlook on how the app will be showcased.
Seamless user experience: At this stage, the developer will check the usability and navigation to ensure a seamless experience. It helps your app to be fully optimized and secured.
Software BluePrint: Your designers will prepare a blueprint that depicts how the function renders and shows the stability of your app.
In this stage, the iPhone app development will proceed towards setting up your MAC. Use the tool you chose earlier, the Integrated Development Environment (IDE). Once the app is built, the deployment will happen according to the basic standards and reconsider foreseen challenges.
After the app is ready to be launched, the developers will look for the final review under which they will evaluate the following: 
Seamless User Experience
Optimized performance
Security
Timely deployment
Bug testing
Compliant with Apple Guidelines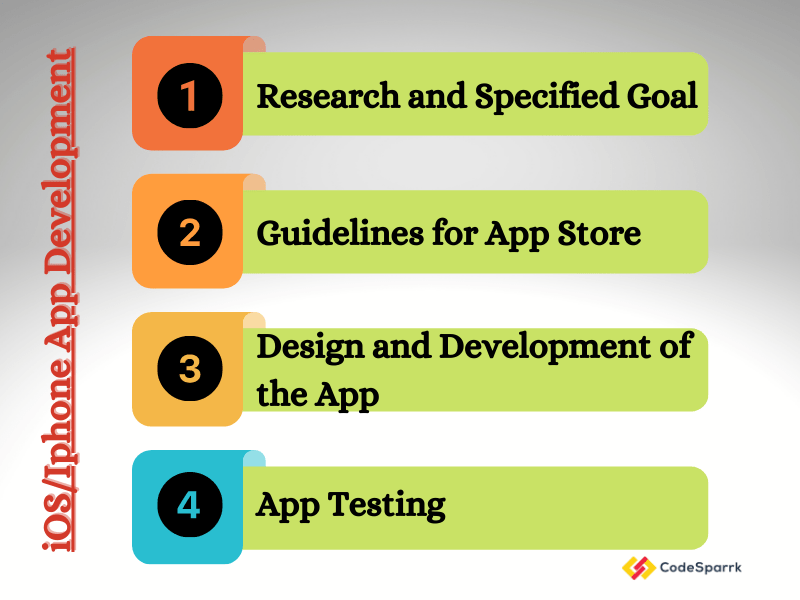 What skills needed for iOS development? (iOS Developer Skills)
While it is significant to keep these above-stated requisites in mind, there are other key features that an iOS developer or the one developing the app should possess. These are categorized under: 
At any level of iPhone app development, the iOS developer should possess-
Patient
Flexible
Organized
Self-Driven
Multi-tasker
Able to work under pressure 
Get familiar with the technical skills that are required to develop to ensure a robust and sturdy app. Make sure to learn about Xcode and its features. Know about multiple features, human interface guidelines, design guidelines, and specific attributes that contribute to the development of the app.  
Be it the one who is making the app or the one who is hiring someone to make the app for you, make sure to be aware of the following concepts. 
Software Architecture
Concurrency
Programming languages
Estimated cost in the market
User testing
Queries for upcoming challenges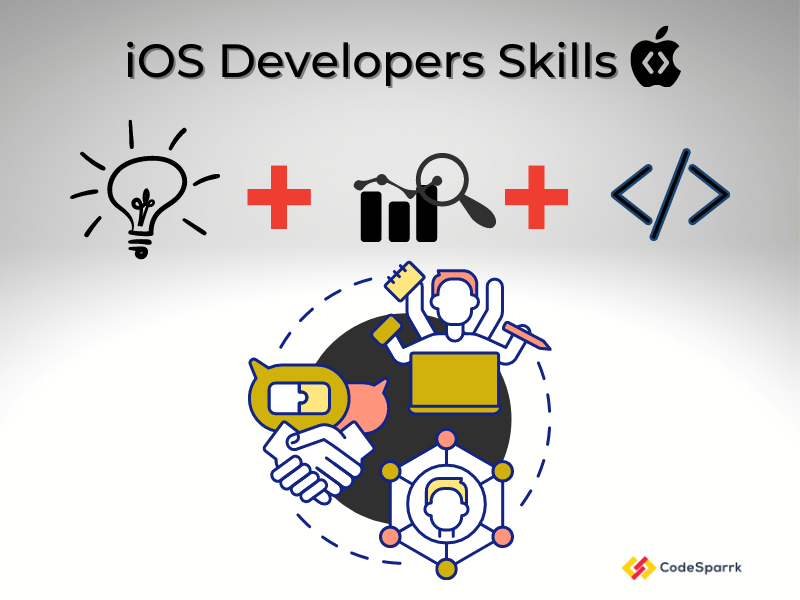 How much does it cost to develop an app?
Depending on the complexity of the app, the price to develop one could range from $30,000 to $150,000. There many factors are affecting on cost to build an app. App type, region, time and complexity. Here we have given some average estimated costs for the app's development based on type and region. If you are a founder, then it will help you to differentiate things according to need.
App Development cost by Type
| | | |
| --- | --- | --- |
| Application Type | Average Estimated Cost | Timeframe |
| Simple App Development | $30000 to $50000 | 1 to 2 Months |
| Medium App Development | $50000 to $150000 | 3 to 6 Months |
| Complex App Development | From $200000 | 6 to 12 Months |
App development cost by app type
From above it conclude that the cost of an app depends upon the complexity of its functions and features. Also its differ by app type like android, iPhone app, business app, retail app. ecommerce app and many more.
Becuase of the demand of the app development its cost may be varies by regions. If you are business owner who want to build an app then check this
Average cost of App development by region
| | |
| --- | --- |
| Country or Region | Cost per Hours in $ |
| United States (USA) and Canada | 60 to 150 |
| United Kingdom (UK) | 70 |
| India | 30 to 50 |
| Australia | 50 to 150 |
We know the human mind is never satisfied. Its curiosity is always on for more answers. That is why we have jotted down the hot questions about how to make an iPhone app 2022 in an attempt to provide you with every piece of information. 
Continue to read more for 13 reasons of why iOS app development is important in 2023
Frequently Asked Questions (FAQs)
Now that you are aware of everything there is to know about iOS app development, share with your friends to spread the knowledge! If you are business owner and want to make an iphone app then feel free to connect with us for iPhone app development services.
Don't wanna miss anything? Get the latest updates and tech blogs to clear your obstacles in your journey. Follow us for more!